COVID19 has been in our lives for an entire year now and it's caused us all to pause and reflect as businesses and human beings.
It's been a moment of truth, almost like a forced reset.
Welcome to The Growth Connection, a podcast to help us all look forward to this year with a growth mindset. We'll feature interviews with cmi's elite roster of experts in the areas of diversity, leadership, the future, mentorship, performance, teamwork and inspiration.
On today's episode...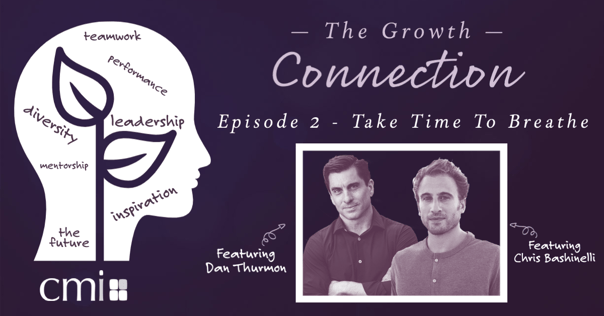 Hang out with Dan Thurmon and Chris Bashinelli as they explore positive mental health and the importance of taking time to breathe.
Chris is a Moderator for the United Nations, an Eagle Scout, a National Geographic Explorer, and has interviewed some of Time Magazine's 100 Most Influential People on the Planet. He's lived with nomads in Mongolia, farmed for tea on China's hillsides, and Sumo Wrestled the heaviest Japanese human being in recorded history. Bash's life mission is clear. When we 'change our mind,' we 'change our world.'
Dan Thurmon is the author of two books, a Hall of Fame speaker, and a recognized expert in delivering peak performances, on stage and in the workplace. He encourages audiences beyond the pursuit of "success" and enhances our life experiences and professional endeavours with purposeful, positive contributions. Dan's philosophy can be summarized by the title of his book, Off Balance On Purpose. He believes that we will never achieve "perfect balance" and should, instead, learn to embrace uncertainty and initiate positive changes that lead to growth.
Takeaways
How to stay focused on what you can control, to lessen levels of anxiety

Learn how to navigate productivity and connection during a pandemic, when distractions are everywhere

Why technical preparation is equally important to preparing your heart and good intentions

Different ways to create space in you mind for creativity to flow freely
Click below to listen!
Transcript
Dan Thurmon
Hello, everyone, and welcome to the cmi speaker interview series, where speakers interview other speakers and go deeper into the wisdom and maybe a little bit of a story behind the story. My name is Dan Thurman, and I'm here today with the one and only Chris bastianelli, better known as Bash, to his friends and to his clients. With Chris really, the whole world is his friend. So you could call him Bash. Bash has acted on the sopranos. He's moderated at the United Nations. He's hosted his own TV show for PBS and Geographic magazine. And he's done so much travelling around the world learning, teaching, and educating audiences as a speaker for many, many years. He's still a young dude, just 34 years old. But you'll be amazed by the wisdom in this man. So Chris, thank you so much. And welcome!

Chris Bashinelli
Dan, thank you so much. You're a great friend, and you have been for many years. And still, one of the great I have to say regrets of my life is not taking you up on the offer to learn how to backflip all those years ago. It's a skill that I still wish I could learn. And maybe we can do it one day together.

Dan Thurmon
We were trying to do it in like five minutes, you know,

Chris Bashinelli
without any mat to brace the fall!

Dan Thurmon
Yeah, in a hotel gymnasium like that, like little workout room actually is all it was, and it was before your speech. So like you are getting ready for your speech, getting ready to go on stage, and you're like, Oh, damn thermos here, I've got to take advantage of this moment and learn how to do a backflip. But that's how you are. You learn from everyone everywhere, wherever you go. And you don't waste any time, like getting to the nuggets of what people are all about. I was so looking forward to being with you today. And I am just pumped about this moment. Because any experience with you is simultaneously therapeutic and a little bit of a conviction. Because you know, you have this way of caring for people, but because of such a loving presence, it's almost like you hold us accountable. You cause people to take a really good look at what's going on within their lives within their thoughts. And you have to take it very seriously. Right? So I wondered if you could give us a bit of your core philosophy about life that kind of brings that quality to the surface.

Chris Bashinelli
First of all, let me say thank you so much. And it's an honour to be with you. You're a great friend. And it's an honour to be a part of cmi. And to be a part of this speaker series. I just learned so much from each and every one of you and from our entire team. So for me, I'm very grateful to be here. The lesson that's been hitting home for me a lot recently is not trying to change the world. Instead, let's change ourselves. During this pandemic, I have found especially when all of our businesses have just been flipped completely upside down. The people who are doing really well, the businesses, the people, the individuals, and the communities that are doing really well are able to focus on things within their control. And at the very beginning of this, one of our good friends, Tim Gard, said to me, "Bash, focus on what you can control." And then it dawned on me riding this pandemic out, which I do believe it will pass, is kind of like riding out a wave. When I go in the ocean, and I surf. I'm not yelling at the waves. I'm not mad at the wave for wiping me out of everything that happens to me when I'm out there in the Atlantic Ocean or the Pacific Ocean or the Indian Ocean or wherever it might be. Everything that happens, every challenge, every wave that crashes on me is information. I take it as information. Oh, I need to move a little further up on my board. I need to move further back so that I can become a better surfer. And we can use this opportunity to become better surfers of life. Yes, we might not be able to control everything in our lives right now. The economy, the weather, our finances from day to day, but we can control the attitude that we bring to it. I believe.

Dan Thurmon
I love that, and that frame of reference and ownership of this challenge is so important, really to all of our clients; what are you finding in the individuals and the organizations that you're working with that you're able to help them see that maybe they couldn't see before like your gift is that you take these beautiful thoughts that can be philosophical, and in some ways, intangible, but you make them very practical, and you help people really understand what the next move is. So what do you think is the next move for the people who feel that way? Right now,

Chris Bashinelli
I would say, Dan, from the smallest company to some of the largest, and I recently had a conversation with one of my largest clients in a major, major international company. And I would say our next step, the first step, and the last step is to open our hearts, open our hearts to what other people are going through. Because from the smallest client to the largest client, everyone is struggling with the same things during this pandemic. How can we work from home with all of these distractions at our fingertips? How can we stay connected to our family when we might not actually be able to physically give our loved ones a hug, people are hurting, and people, in many ways, are working harder than they ever have before. One of the things that I've found to be super helpful for me and something that I'm sharing with clients is that we have to take care of ourselves to truly be there for others. It's not sustainable to work 12 or 14 hours a day, seven days a week, we must take time to breathe, we must take time to be grateful to go for a walk if we can, if we can exercise, whatever practice we have, that keeps us centred. Because if we are in a positive state of mind, then we are in so much more powerful of a place to give to our clients and to give to others. So the step I've been recommending to others is twofold. One, open our hearts to what others are going through because we are all struggling with the same things right now. And to create some boundaries in our lives so that we can be more productive at work and more relaxed when we're not at work. That way, we can become resourced when we're back at our computer and working with our clients.

Dan Thurmon
Yeah, that's great, great advice. Being heart-centred is something that just comes so naturally to you. You're a very empathetic human being when you mentioned not being able to embrace a loved one. You know, I thought about you and how much wisdom you derived from travelling the globe. And, and those experiences of searching and journeying have kind of brought you this, this level of clarity about how everyone truly is connected. Like we're all dealing with the same stuff. And you saw that regardless of culture, or language or occupation, or like class in society, and you brought that forward through your TV show to audiences everywhere to help us feel that way. And I think about the fact that you can't travel, the fact that we can't hug each other, we don't even see each other smile as much because we're wearing masks, right? And so, how do we find this sense of connection right now. You know, the need for humans to be around humans and draw energy from one another has not gone away? If anything, it's increased. So how do we do that now?

Chris Bashinelli
Well, Dan, I think the thing to keep in mind is that connection is an experience. And it's an experience of the mind. It isn't necessarily a physical experience. I've travelled to many countries, filming TV shows on an expedition for National Geographic, I've travelled to many countries, in many places, speaking at different conferences, every single one of those times that I've gotten on a plane, with the exception of a handful, when I'm travelling with the production crew, I travelled by myself, I am in hotels by myself, I go on stage, I'm with people, and then I'm by myself again, if I were to truly believe that in order for me to feel connected to the people I love, I had to be around them physically. It would be a really tough go for me. So one of the practices that I've done is a really simple practice. It is simply to close my eyes, think about somebody that I feel close with, and just really feel that closeness. And we might say, well, that's corny, and they're not really here and fine. We can listen to that voice if we want, but how is it serving us? Instead, we can just imagine the person is there with us. Imagine we are feeling connected with them. And then we and then what we realize is we actually have control over that feeling. Wow, I can feel connected to my mom, to my father, to my children, to my loved ones to my spouse to my cousin's to my clients, whether I'm in the same room with them or 10,000 miles away, and that connection is a choice.

Dan Thurmon
But it's such great advice. And you're full of practical pieces of wisdom like that. You're a young guy, and you've been doing this a long, long time. So when I think about your journey, the question that comes to my mind is when you were in your early 20s and moderating at the United Nations and putting yourself forward into situations that you know, from an academic point of view or whatever it's like, you're just going there and opening up to the experience, but with a level of confidence. How did you? How did you find that measure of confidence to step into new moments? And trust? I'm okay, I'm enough. I'm here; I'm prepared. I have something of value to say or to offer or to do. Do you remember that?

Chris Bashinelli
I have goosebumps from the question. Yeah, I remember it very vividly. I remember taking the train to the United Nations. When I was giving a speech at the General Assembly Hall. The first time I spoke in the General Assembly Hall when I was 23, with the Secretary-General of the United Nations. And I remember standing at the podium, something happened in the middle of my opening speech, and a massive fixture. I don't know if it fell from the ceiling or from the stage. But there was a massive crash. And it's recorded on video, there was a massive crash, everyone in the room heard it. And I looked over, and something had fallen; it was so distracting. And I just realized I didn't think I just said I'm sorry about that. I have telekinetic powers, and everyone in the audience laughed. The reason I share that with you is because I wasn't prepared on paper. But I was prepared in my heart. I was confident to go out there, not that I wasn't nervous, not that my heart wasn't beating- it was. But I trusted the greater mission that I was there, I trusted that, hey, these people believe in me enough to bring me on to that stage, our clients believe in us enough to hire us whatever field we're in, they believe in us, they trust us, that gave me confidence in myself. And it was kind of like not to go back to surfing again. But it was kind of like that experience of pushing down the face of a wave. And when you push down the face of a wave, for many years, I would pull back at the last moment, we're afraid to let go, we were afraid to let go. What enabled me to let go and go down the face of that wave in terms of speaking on that stage and many other states since then was the experience of losing my father. And when I saw my father, I mean, I literally saw my father passed away before my eyes from cancer. And when that happened, that rocked the foundation of my world in a good way. I'm sorry to say it was in a good way because it made me realize, hey, why am I really here? What's the greater reason? Why am I really here? On one level, that propelled me to go on an international expedition that lasted more than 10 years, which I'm still on today. But the real journey that happened was the journey within, so from that experience of loss, I was able to gain sort of a momentary feeling of life is very fleeting; if there's something I believe in, I better go for it. And so witnessing that empowered me to be able to go on a stage, even though I'd never done it before, and opened my heart,

Dan Thurmon
Yeah, that's great. If I can explore something you said about preparing your heart, it really was like a wild moment for me. Because I think about, you know, everybody's trying to get ready for the moment, whether it's a speech or a presentation, or the next job interview or, or serving your client or making the sale or whatever, and you do all the things or playing in a game, or you know, sport, you do everything that you think is required, you're still not ever going to be sure if it's enough, right. And you can kind of keep after it and keep after it. And then there's the other piece that is preparing your heart piece, which is, am I going to be okay to be successful in this moment? Do I feel like I've deserved it? Do I have something of value to truly give? Why does this matter to me? You know you're making a case for is, and I've experienced this in my life...sure we prepare. But in many cases, when your hearts prepared, it will compensate for maybe some gaps in like technical preparation, or by the book preparation. My question is, what happens if you do everything technically, but then you fail to prepare your heart? What do you think happens then?

Chris Bashinelli
We always have to start with a good motivation with a good intention. Intention is behind everything that we do. People can sense it, infants can sense it, animals can sense it. What's our intention when we're dealing with others, when we're dealing with our clients? I think it's a two-fold effect. There's the technical aspect. There's the preparation aspect. You're off balance on purpose. So you have the body of like Hercules. And so you do you the technical preparation is there for you. Still, your heart is just so pure. So giving. The technical aspect, and let's say the sort of inner aspect, the psychological aspect, I think they actually influence each other. Sometimes when we wake up, we don't want to exercise we don't want to work out maybe a lot of times, especially when working out in our living room, if we force ourselves to learn the technical aspect, to do the due diligence of the day to day work that we have to do to be physically technically prepared, that tends to have an influence on how we feel about ourselves. Sometimes we start from a positive feeling within, and that will inspire us to exercise or to engage in the technical aspect of preparation. But sometimes we have to just do the work. And when we do the work, we gain confidence in our ability within, I believe it was Mr. Rogers, the wonderful PBS television host, who was interviewed, and during the interview, he was asked, how long did you prepare for that program, and I'm making this up because I forget the number. But he said something like 52 years, like his whole life, his whole life, what we do on stage,

Dan Thurmon
I find that to be the simplest, the simplest thing, the most difficult thing is living a life that's in accordance with what we share on stage. That's the difficult thing. And that's, that's our work as speakers. And it's also the multiplier, isn't it? I mean, it makes everything else when you get that resonance between your life in your message when you get that right. It just takes the message to the stratosphere in terms of impact. And I think you're right; it all comes down to intention. And the audience knows on whatever level, Hey, is this guy just a messenger for a nice message? Or is he actually living it? Right? Or is she actually walking the talk and kind of filling the room with the, like, practical authenticity and social and proof that what they're teaching us is actually true?

Chris Bashinelli
We learn, I believe, very little by what people say very little. I think we learn mostly by who people are, we learn, yes, we learn by what our teachers are saying. But we mostly learn by who the teacher is themselves, what type of person are they that gives their words power? Otherwise, the words will go in one ear and out the other? Yep, sounds good. We can check off the boxes; they said all the right things. But it has no impact to move us. When somebody has done the work on themselves, the inner work, then their words have the power to move us because there's congruency, integrity. Now that's what we're aiming for. And that's a lot of work.

Dan Thurmon
That's such a powerful leadership message. You know, leaders really need to think about that and do that internal work. And in a way, I'm curious, do you think that COVID...everybody has their COVID story. We have ours and how it impacted the speaker's world, in our relationships with our clients and our families. But I think you know, that journey you talked about going within, in a lot of ways, there was this moment of truth, where everyone had to kind of experience it that almost like a forced reset, where you really had to look back and say the question, has everything I've done been working? Do I really believe what I thought I believed? What is true anymore? You know, who am I? And either you start doing the work to figure that out, or you have to distract yourself and all these ways, self-medication or abuse or, or just entertainment or whatever. You can only avoid that crack that question so long, though, right.

Chris Bashinelli
One of the things that really challenged me when I first started, I mean, I was running my company, Bridge The Gap TV, out of my parent's basement. I was 20 years old, I was editing films, I was on the phone pitching to like Ben and Jerry's ice cream and other companies trying to get sponsorships. And my mom would be like doing the laundry next to me, right. That's, I mean, that's not an exaggeration that actually happened. But one of the tools that I learned was first thing in the morning to do my most important task first thing in the morning, I think lots of entrepreneurs know that whatever is the most important thing on your list, do it first thing in the morning, do not please, for the love of everything. Do not check your cell phone first thing in the morning, unless you have to, because it puts you in that sort of reactive backfoot defensive state of mind doing the most important thing first thing in the morning. What that forced me to do is I would I would just be like sitting at my desk, Dan. And I'd be like, I don't know what, so I would just like close my eyes and just breathe. And just think about what is the most important thing that I have to do today. My point is that when we're not engaged in compulsive distractive behaviour, it creates space in our lives. And only from space can creativity be born. If we're constantly distracted? If we're constantly caught up in the noise, if we're constantly watching the news, which I do not recommend or mindless scrolling through social media. How are we ever going to know who we are, know what we have to offer to the world, and know what ideas are just beneath the surface? It's kind of like an ocean that's moving a lot. And the waters are very choppy. Meanwhile, there could be like, you know, this is a bad example. But like a gold iceberg right below the surface. It's only when we can calm our minds, like the surface of the ocean, then we can allow the beauty and that creativity to come from within. But we have to make a purposeful intention to create space in order for that to happen, I believe.

Dan Thurmon
So Chris, when you talked about closing your eyes and asking what's most important and getting clear on a question or an intention? Would you describe that as mental health? Is it accessible? Do you have to learn a specific process in order to get there? Or can anyone kind of easily do it? And if so, how would you suggest they start, then? It's

Chris Bashinelli
a great question. And I think one of the things to understand with mental health is that a path to positive mental health is available to anyone and everyone. It doesn't take a whole set of very complex techniques. We can just start exactly where we are. Where does anxiety come from? Like, for me, anxiety comes from focusing on all the things that I can control. If I continuously obsess about all the things that are outside of my control, whether or not this client is going to sign the deal, whether or not this person is going to like me who I have a crush on, whether or not it's going to rain, whether or not they're going to be waves, I will constantly be in a state of anxiety, the only thing I can control is what I bring to each of those experiences in my life, to bring my best self to each of those experiences. So when I think about something simple, like sitting down, when I'm at my desk, I'm about to start working, literally just closing my eyes. And Dan, it could be for 10 seconds, it could be for five minutes. I just breathe with my eyes closed. And I think about what is the most important thing I have to do that day. Or maybe I know what I have to do that day, maybe I have a conversation with Dan Thurman. Maybe I'm just going to sit down and breathe and think, what is the most important feeling? I want to get across to Dan in this interview? And just think about that. Or if I have a conversation with a client next week, or if I have a conversation with whoever might be coming up. Just think about what do I What, what are the questions, I have to ask this person. Or if there's a script I want to write or a video I want to record. And by doing that, all I'm doing is concentrating on one thing at a time, as opposed to sitting down at my desk, grabbing my phone, getting distracted, and not allowing those genuine, authentic answers that come from within each of us to come. But in order for those answers, in order for that creativity to arise, there just needs to be some space. And by closing our eyes, we create some space, and then the magic can happen, brother.

Dan Thurmon
Now can that space happen? Because that magic happened? Even when you're not sitting down at your desk? Like, do you create those moments of opportunity and clarity on your surfboard? Or when you're in the moment of doing something else? I know for me, physical discipline is quite often a very wonderful gateway that opens up a space for that opportunity to materialize.

Chris Bashinelli
Totally. For me, so much of what I do is about it's about being present. And that's one of the things that attracts me so much to surfing and to exercise that discipline. By being in such intense physical situations, it forces us to be present. When I think about your work off balance on purpose, I see you in some poses that if I ever tried them, I'd be in the hospital for a month. So I know that you bring intense presence, concentration, focus to what you do. When I'm on my surfboard, I know that if I'm present, I have a much better chance of catching the wave than if I'm distracted. Actually, I've been distracted on waves, and as a result, I've gotten hurt. So it's the same in our work. It's the same in our lives. And with physical discipline. That's sort of a way to, for me, get out of our head, get out of our head, get into our body and to be present. And that practice can be different for all of us every day. For someone who might be sitting down closing their eyes for another person, it might be gratitude practice for someone else, it could be throwing on an album yes, I do have a record player, listening to music, going for a walk in nature, exercising, taking those moments each day, even if it's one moment a day, to care for ourselves so that we can resource ourselves then and be there more for others and then what happens we're out there for a walk, or we're out there on our surfboard, or we're exercising We see that we're getting distracted and thinking about work. Maybe that's not our time to think about work, maybe we've made a boundary and said, You know what, I'm going to exercise for one hour every day. And during that time, I'm going to think about nothing else, then, except exercising, and then what happens, I finish exercising. Now I have more energy and creativity to bring to my office to bring to my work, we have to have the Yin to have the Yang, we have to have them off, to have them on, we have to have the space to have creativity arise.

Dan Thurmon
Yeah, and it's so great, and they come alongside each other. Because in those moments where we're out of our head, in physical activity, or exercise, quite often creating that space, even in the workout, the answer to the problem at work, or the creative idea for the next video or blog comes to you as just this clarity. And it's not because you were trying to pursue it. It was because you created the calmness of mind for it to materialize, created the calmness, and you created the space.

Chris Bashinelli
Like I think of another surfing example. I can think of standing on the shore and seeing all the waves break in front of me. And I'm trying to paddle out to get past the lineup where the waves start breaking. And I keep getting smashed back to shore, and I keep paddling out, I keep getting smashed back to shore. But there's another option. If I go back on the beach, and I look at the ocean, I look at the waves, I might see, hey, there's actually a channel 50 yards to the left, where the waves aren't breaking. And so I can just paddle out there without my hair getting wet and paddle out to the beginning of the lineup. It's the same with any problem-solving equation that we have creating some space gives us a new perspective. And the same goes with bringing in different perspectives, different people, different backgrounds, different cultures because when we bring in different perspectives, it allows us to look at that same problem from the wisdom and experience of countless other minds. And that will be more powerful than any problem-solving equation we try to solve on our own.

Dan Thurmon
You told me that this year, you've been so creative, give us a little insight into your creative process. And tell us what you're working on right now.

Chris Bashinelli
Believe it or not, then I think one of the foundations of creativity is stepping into our own self-worth. And what I mean by that is allowing ourselves to be successful; maybe we have heard stories growing up or had experiences or been let down or whatever that affects how we feel about ourselves. So we reach a certain level of success, or we reach a certain level of health, or fitness with our body or success with our clients or fill in the blank, whatever it is for you. And then we feel like alright, like that's my threshold, anything beyond that, I'm going to sabotage myself, and it's not even conscious. So that's why I think it is critical. Every day. Each of us has some sort of practice, whether it's gratitude, or prayer or meditation or breathing or going for a walk, something that centers us something that empowers us to feel good within not based on external conditions, not based on great the person I like they like me back or great this client I really wanted, I landed them not based on externals, based on ourselves based on knowing that we've brought everything we can to our lives. As you said, some days, we don't feel motivated. Some days we don't feel inspired. I think what we have to do, honestly, then we have to strike a balance between being gentle with ourselves and being disciplined. You know, if I don't get a good night's sleep, I'm not going to go and do the heaviest deadlift I can because I've done that, and then I hurt my back as a result. And then I'm out for a handful of days. So if I'm really not well-rested, I might just go and do a few practices of yoga. I might do some light exercises to know that I've done something. Consistency is key. But at the same time, we want to make sure that lazy narrative doesn't take over our minds so that we can use gentleness as an excuse for not reaching our potential. So it's that balance between Hey, am I just saying that I feel tired today? Or am I genuinely tired? Does my body need a rest? And listening to that and walking that fine line between being gentle with ourselves and being disciplined? It takes time, but I think it can produce sustainable positive results.

Dan Thurmon
Thinking of people who are gentle and disciplined. One of your heroes and personal mentors comes to mind, Dr. Jane Goodall, who is a world-renowned, of course, primatologist, an anthropologist, and just legend. I mean, I grew up seeing these movies of her With with the primates and developing relationships within the communities, and it just seemed almost like a superhero, to be able to transform as she did and to elevate her field to a level far beyond it ever was. How did you meet Jane Goodall? What was your relationship like? And how did she impact you?

Chris Bashinelli
Dr. Jane is an amazing inspiration. I feel very, very fortunate to have met her. I connected with her through my company bridged the gap TV, we made our first documentary on the Pine Ridge Indian Reservation, which is unfortunately still one of the poorest places in the United States of America now looking like me, or you, it's generally difficult to gain trust, filming on a reservation. Right? And that it's very, very clear why that is, I realized that if I was going to make a documentary on an Indian reservation, we needed the support from within, we needed the support of local grassroots nonprofit initiatives that were helping people without any hidden agendas. And Jane Goodall's Roots and shoots is a very, very powerful youth-led organization that inspires young people around the world. I think it's probably in more than 150 countries, right now working on everything from animal rights to human rights to saving our planet. And Jane Goodall's Roots and shoots had a community garden initiative on the reservation at the time, and I reached out to them. And over the course of several months, I got to know the local staff working in Pine Ridge, they became a part of the documentary, they invited us into the community. And Dr. Jane was a part of that process from beginning to end. And I've also gotten to speak with her several times, the United Nations and other places. For me, the most profound thing that I learned from Dr. Jane's life is that she really lives her life. For others. She's been travelling nonstop since 1986, which is the year that I was born. So since that year, but aside from now, aside from in a global pandemic, she had not been home consistently, I think for more than two to three weeks in a row for the entire year, because she was on the road, sharing what she learned. And I believe it was said in an interview, she said something along the lines of after discovering what I discovered in Gombe National Park, I had to share that with the world. It would be selfish for me not to everything that Dr. Jane gets; she gives back to the Institute. All the money she receives, almost all that it goes back to the Institute. She's not a rich woman, but she's the richest woman I know internally because she lives her life for others, all the fame, all the attributes, all the accolades, she doesn't care about it only to the extent that it can serve others. And that's an example that each of us can take. It's kind of like the more we shine our light on others. Guess what happens? It bounces back in our direction.

Dan Thurmon
No doubt about it! I want to perhaps close our time together. You've shared some wonderful thoughts about Jane Goodall, and I couldn't agree with you more just what a blessing and privilege it is for you to cross paths with her in life. And not just for a small encounter, but for a true relationship. And now we get to benefit secondhand, and our audiences get to benefit from that experience because of how you are able to articulate it and relate it to the circumstances that we face, in our lives, in our businesses, in our mental health and how we overcome adversity, and even issues of like diversity and inclusion and how we can accept each other and truly be present, and kind of get out of our own way in terms of connecting. So I want to just close with what Jane Goodall said about you, which is we all need more people like Chris in the world. We need more people like Chris in the world. That's the quote, We need more people like Chris in the world, and I agree, or I'd say it a little differently. I'd say we all would benefit from being a little bit more like Chris because that's the deal is we when we change ourselves, as you said, we change our world. We change our relationships. We change our connection. And Chris, I truly believe just our little conversation here today has truly changed some people who listened to it. And so, thank you for being a part of the CMMI speaker interview series. Great to be with you, my friend.

Chris Bashinelli
Thank you so much. Thank you to you and the whole CMI team. Thank you, brother.

Karen Harris
Wow, what a great episode. I've known and worked with Bashan Dan for many years. They are insightful, creative, and they walk their talk every day. Remember, growth is uncomfortable because you've never been here before. Keep growing!