New Rules For A New World
COVID-19 is not only changing our way of life, it will hasten the arrival of a radical new future of work. While for many of us working from home has been a new and unexpected challenge - that is just the start of a much bigger transformation set to reshape the nature of business itself. In order to survive, every organization will have to virtualize.

Whether it be serving customers through digital channels or leveraging AI, algorithms and automation to ensure business continuity - we are likely to experience in the next twelve months, a decade's worth of change. Not every business will make it, but those that do will never be the same again. And for leaders, now more than ever, is a time to upgrade their capabilities, embrace new technologies, and reimagine what they do.

Mike Walsh's inspiring new keynote presentation will offer audiences an insight into the organizations and leaders that are successfully navigating this period of change, and how to create a playbook for their own transformation. Becoming future-proof is more than just about getting through the current crisis - it is about being ready for the new world that awaits us on the other side.

In this keynote, attendees will learn:
Why there is no such thing as digital disruption, just digital delivery

Why there is no remote work, just work

Why AI is not here to destroy our jobs, but it will change them
We live in an age of wonder - cars that drive themselves, platforms that anticipate our needs, and robots capable of everything from advanced manufacturing to complex surgery. Automation, algorithms and AI are transforming not only business, but every facet of daily life. While many fear that robots will take their jobs, the rise of machine intelligence begs a more important question: what is the true potential of human intelligence in the 21st century?

In this dynamic keynote, Mike Walsh, futurist and author will present a vivid portrait of a brave new world orchestrated by machines that think, and how tomorrow's leaders can upgrade their capabilities to survive and thrive in an age of accelerating technology.

Audiences will walk away with an insight into the companies, technologies and global forces shaping the age of machine intelligence, as well as a set of tailored next actions on how to redesign their organizations, reimagine their roles and reinvent the way they make decisions.
In this keynote, attendees will learn:

Why competing in an age of AI requires a radically new approach to delivering data-driven experiences and personalized services.

What it takes to accelerate your journey to becoming an AI-powered organization, and how to lead a successful process of digital transformation.

How to unlock the new skills, capabilities and mindsets that your leaders will need to survive and thrive in the future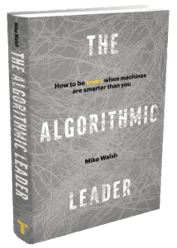 Futurist Mike Walsh reveals the 10 principles every leader needs to know to survive and thrive in the algorithmic age
"The Algorithmic Leader was a favorite among history students at NCAT. I assigned the book to initiate conversations about the changes in jobs and research due to artificial intelligence. It offers practical advice for remaining relevant in the workplace and the culture of the future. When undergraduates are making critical decisions, The Algorithmic Leader encourages them to exercise independence and initiative for their career and educational pathway. The text is structured in a way that lends itself to an academic course (e.g. it includes summaries and critical thinking questions). The writing suited for higher-education classes. I highly recommend The Algorithmic Leader for college-level instruction."
Dr. Awendela Grantham, Ph.D. - North Carolina A&T State University
The Rise Of Generation AI
The next generation of consumers will not only be radically different to anything we have known, they will reshape the future in their own image. Forget Millennials. It is their kids we should be worrying about.
Generation AI, born between 2010 and 2025, are the first generation natural born to the Algorithmic Age, a world in which all of their experiences have been personalized and designed for them with data and artificial intelligence.
As young consumers today they are behind the meteoric rise of Roblox, Minecraft, Fortnite, TikTok and YouTube Kids. As young adults in the 2030s, their expectations and behavioral patterns will transform everything from healthcare to retail, education to financial services. This is their story.
In this keynote, attendees will learn:

- What makes Generation AI so different, and their unique approach to play, entertainment and learning.
- Life in the 2030s, and what a decade of accelerated innovation means for the future of interfaces, experiences and interactions.
- The new skills and capabilities we will need, not only to parent this generation, but to engage them as our customers.
Designing Your Business For The 21st Century
Most companies are simply not designed to survive. They become successful on the basis of one big idea or
breakthrough product - but then fail to evolve and change. One out of three public companies will cease to exist in their current form over the next five years. The companies that will thrive in the near future are the ones not only embracing change but breaking the rules.

Companies built to survive the future are no accident. They are a result of deliberate business design decisions smart leaders are making today. In his ongoing research on the world's most innovative companies, Mike has organized these decisions into strategic priorities - that he will explore with audiences as a roadmap for their own reinvention.

Walsh will outline the forces shaping the future of business and consumer behaviour, and the lessons learned from successful Fortune 500 companies on leveraging disruptive innovation, adopting a data-driven mindset and leading change through digital transformation.
In this keynote, attendees will learn:

- How to leverage technology, and data to become truly AI-powered
- How to make culture your operating system and redesign the way your teams work
- How to become a better data-driven decision maker, and reimagine your role as a leader
Mike Walsh Speaker Videos - THE
FUTURIST FOR LEADERS
Explore Mike Walsh's speaker videos below. Watch Mike explain how AI will change what you do, how Amazon makes smart decisions, why leaders need digital ethics and many more highlights from his keynote speaking engagements all over the world.
After Covid19 Where Do We Go From Here?
The Best Way to Lead is to be Data Led
Worried about the future?
We should not fear the rise of AI
About Mike - The FUTURIST for LEADERS
CEO of Tomorrow, author of The Algorithmic Leader, Harvard Business Review columnist. Leading authority on technology, transformation and leadership - with a uniquely global perspective.
Mike Walsh is the CEO of Tomorrow, a global consultancy on designing companies for the 21st century. For the past twenty years, he has been a leading authority on disruptive innovation, digital transformation and new ways of thinking. A global nomad from a diverse ethnic background, futurist and author of three bestselling books, Mike advises some of the world's biggest organizations on reinvention and change in this new era of machine intelligence.

A specialist in AI-powered transformation, Mike's work and research was recently profiled by the Rotman School of Management. His talent is being able to bridge the two worlds of disruptive technology and business leadership, translating deep tech into pragmatic recommendations for leaders to seize new opportunities, transform their organizations, and change their own thinking.

Mike is a prolific researcher who interviews innovators, scientists, entrepreneurs and corporate revolutionaries every year. Many of these conversations feature in his popular podcast, Between Worlds. A skilled facilitator, he excels at fireside chats with CEOs, customers and other thought leaders. He brings this consultative approach to personalizing insights and recommendations for his audiences, specializing in identifying 'mind grenades' or provocative questions that will challenge your team and stretch their thinking.

A prolific writer and commentator, Mike's views have appeared in a wide range of international publications including Inc. Magazine, BusinessWeek, Forbes and the Wall Street Journal. Recently, LinkedIn invited Mike to publish his weekly newsletter Tomorrowist about next generation leadership. A regular contributor to the Harvard Business Review, his articles explore a wide range of cutting-edge leadership topics including data-driven decision making, agile organizations, algorithmic management and AI ethics.

Mike's latest book, The Algorithmic Leader, offers a hopeful and practical guide for reinventing leadership and organizations. The book has been a global hit and is now available in Chinese, Japanese, Korean, German, Polish and Russian. In 2019, The Algorithmic Leader was selected to be given to the world leaders and executive attendees of the Ambrosetti Global Forum at Villa d'Este in Cernobbio, Italy.

Futuretainment, Mike's first book, was published by Phaidon and was the winner of the design award by the Art Director's Club in New York. Released in 2009, it predicted how the smartphone would reshape the media and marketing industry, and the imminent rise of social media, digital influencers and streaming entertainment. In The Dictionary of Dangerous Ideas, Mike anticipated breakthroughs in micro satellite networks, cryptocurrencies, remote work, digital protest movements, self-driving cars, drones and digital biology.

A dynamic and engaging keynote speaker, Mike has given more than 1,000 talks over the last decade, from strategic briefings for the boards of companies like Verizon and Raytheon, to an employee summit for a healthcare corporation that filled a sports stadium with an audience of over 25,000 people. In addition to both in-person and virtual presentations, Mike also works with enterprise learning and development leaders to create compelling programs to up-skill teams for a world of AI-powered competition.
Corporate Experience
Mike has been a pioneer in the digital space since the 1990s, running both successful start-up ventures as well as holding senior leadership positions in established media organizations. With a background in corporate law and management consulting, he began his career at XT3, a spin-out from McKinsey and one of the first digital consulting firms created to help major companies embrace the embryonic Web. During the first dotcom boom, Mike launched the technology publishing group internet.com in Australia, which went on to become the leading local technology news and events platform in the country.
He also founded and ran Jupiter Research in the Asia Pacific, one of the first research agencies to track the early adoption of e-commerce and digital business models by online consumers. During this period, he was recognized as one of Australia's "Top 30 Entrepreneurs Under 30."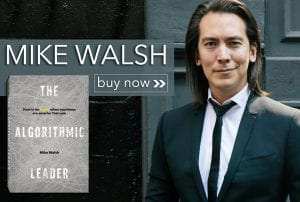 After his experiences in the Webspace, Mike spent five years in senior strategy roles at News Corporation where he helped shape the digital strategy for both their Australian newspaper and Asian TV divisions. Directly engaged by the CEO of Star TV to provide the company with a digital roadmap for their operations, he began his in-depth research into the fast growth markets of Asia.
While in Hong Kong and inspired by the dramatic changes taking place in China and India, Mike founded his latest venture, Tomorrow – an innovation research lab focused on emerging technology and disruptive consumer behavior. Always in demand for his fresh insights and practical future-focused strategies, Mike has advised the CEOs and senior management teams at multinational companies including the BBC, Fujifilm, Richemont, MSN, Star TV, Televisa, Philips, and HSBC.
In addition to his corporate profile, Mike is a published photographer and supporter of the Arts. His photographic images from his travels around the world helped his book, FUTURETAINMENT, win an Art Director's Club award in NYC. He has also served on the Director's Circle at the Australian Museum of Contemporary Art.
As a global nomad and consumer trend scout, Mike does live research, in the trenches, with big corporations and entrepreneurs all over the world bringing a truly global perspective to every event.
Mike Walsh - Reviews
"Extraordinary! Great ideas and eye-opening comments that make you think."
Benavent, L&D Manager, Hewlett-Packard Company
---
"Phenomenal....that's the only word to describe."
Chandrasekar Krishnamurthy, VP, EMC
---
Mike's presentation for the L'Oreal Professionnel Artists, Educators and Corporate Team at Foundation 2021 was INCREDIBLE. Mike, we can't thank you enough for connecting with us to understand the needs of the beauty industry and our team and the future!!! Your segment was one of the group's favorite and you really got everyone thinking about how they can future proof their businesses and embrace what is coming next. Thank you for your amazing knowledge, passion and connection. We absolutely recommend you and your content to the beauty industry - it was just what we needed right when we needed it!
Victoria Usher, Asst. Vice President of Training, L'Oreal Professionnel USA.
---
"Excellent - to the point, inspiring.
I am a director on many boards and attend many conferences - yours was one of the best I have seen online"
"Very thought-provoking to imagine how I could change my office, create efficiencies, and make a better client experience."
"I am in my 6th decade of life and I feel like a retool of my business life must follow a retool of my personal life. You pointed out a path and a map I believe I can follow, as to where to start."
PPI Management Inc
---
"Mike Walsh was engaging from the moment he took the stage to when he was signing books and meeting with our guests. He was relatable and brought humour into his talk that had us always on our toes! Guests raved about how applicable Mike's talkings points were for implementation into their own businesses and he left many of them talking day beyond the event."
First Bank & Trust
---
"Mike Walsh provided a thought-provoking and engaging presentation on a theme that we often think about but never really contemplate enough as leaders, the future."
Steven M. Sonnenstein, Digital Bridge Holdings
---
"Thank you for speaking at our Ameriprise Financial National Conference. Your perspective on the rapid evolution of the way we interact and live was captivating and enlightening. Our financial advisors and their guests enjoyed your unique presentation, as did I. My sincere gratitude to you for sharing your thoughtful perspective with us."
James M. Cracchiolo, Chairman and CEO, Ameriprise Financial
---
"The presentation by Mike Walsh was very insightful, it was my favourite part of the conference."
"Mike Walsh aligned his presentation perfectly to align with our go-to market strategy."
Grant Thorton
---
"Mike did a great job at offering content that made our team think differently AND he wove our messages for the day (ambiguity, agility, change, the importance of culture, etc.) into his talk seamlessly. We got a lot of great feedback about Mike's presentation."
Lori Berquist, Talent Management Program Manager, Fulton Financial
---
"Loved him! Mike was the best speaker we've ever had!!"
FIS Global
---
"He was fantastic! What great energy and a great message – really
engaging!"
Katie Weber, The Principal Financial Group
---
"Great - inspirational - challenged us to think outside the box - innovative."
Ravin Narain, SVP, HSBC
---
"Fantastic presentation! An extraordinary perspective on trends and insights which can realistically be converted to actions today."
Fady Daher, VP Retail, American Express
---
"Excellent, eye-opening presentation, changed the way I think about innovation and attracting/retaining future talent."
Nikki Hutson, HR Officer, Railways Credit Union
"Forward thinking, thought provoking and informative. The presentation encouraged a sense of excitement for the future of our industry. It was well delivered and engaging."
Michael Tease, SVP Marketing, Widex USA, MBA, JD
---
"Very enlightening and empowering on what our future will hold. Food for thought!"
Jen Green, Administration Officer, Cerebral Palsy League
---
"Incredible, very innovating, inspiring, entertaining, and exactly on point."
Eric Banks, Sr Systems Engineer, Premier Inc
---
"I found it thought stimulating and well delivered. I particularly like the "Continuous Partial Attention" which explains my kids."
Carolyn Jenson, Business Unit Leader, GE Healthcare
"I found Mike's session to be incredibly informative and would love to continue to learn from him."
Megan Branigan, SVP Marketing, BBC Worldwide Americas, INC
---
"Spellbound! I loved it! Was fascinated by the entire presentation."
Stephanie Molina, Director of Marketing, Beaumont CVB
---
"Terrific! Energizing and engaging. Thought provoking and really put forward issues and challenges facing marketers and CPG manufacturers."
Greg Kerr, Principal and Team Lead, IRI Worldwide
"Brilliant - one of the best presentations I have witnessed. Great content, excellent pace, great audio/visuals and a polished presenter!"
Reg Nash, Senior Manager Client Services, A & G insurance Services
---
"Fascinating insights into how emerging trends are going to influence business strategies."
Robin Tritta, Doc & Technical Consultant, Sun Life Financial
---
"It was an epic speech, Mike was marvellous!"
Deniz Kalafat Uysal, CMO, ING Insurance
"Very compelling. Our industry has a TON of data but getting our arms around it, acting upon it, and effecting change is challenging. This will help me bring the engineers that run our company into the marketing fold in an environment they find more comfortable and actionable."
Frank Willson, Vice President of Marketing, AEP Energy
---
"Enlightening, and made me realize how tough it is to keep up with the accelerating pace of change around the world."
Jamie Benard, VP - Commercial Development, Summit Discovery Resources
---
"Mike is amazing and the session was incredible."
Jason Gardner, Senior OD Trainer, Southwest Gas
"Mike was wonderful to work with. And he was great about adding nuance to his remarks in keeping with our thematic language. We appreciated it."
Lisa Kaplan, ICAN
---
"Mike was an "absolute home run." Polished, intelligent and very interesting to listen to. We were very impressed with the pre-event call - we really felt that Mike listened to us and reflected it back in his presentation."
NRECA
"Mike​'s​ presentation was great. He connected his content perfectly back to our vision for the week. His energy and enthusiasm for the content inspired the audience. We conducted a poll using our internal meeting app after the morning session and Mike's presentation was selected as the most impactful by a landslide."
Sean Chadwick, Foot Locker​
Mike Walsh Introduction
Mike Walsh is the CEO of Tomorrow, a global consultancy on designing companies for the 21st century. A global nomad, futurist and author of the bestselling book, The Algorithmic Leader, he advises some of the world's biggest organizations on digital transformation and disruptive innovation in this new era of machine intelligence.
Please welcome him today as he takes you on a whirlwind ride into the world of tomorrow.
Mike Walsh Technical Requirements - Live Events
Mike's presentation uses a heavy amount of images and video, all embedded into his Keynote deck that he runs from his current generation Macbook Pro. Due to the custom nature of his presentation, it is not possible to run the slides from another machine or provide them prior to the presentation.
Mike's requirements are as follows:
A 16.9 digital data projector, ideally with a HDMI connection.
3.5mm sound lead to play audio from his laptop
A fold back screen (a monitor so Mike can see which slides are on-screen from anywhere on stage).
Mike doesn't require a lectern, and we recommend you keep the stage as clear as possible for him to move around.
If you are looking for a walk on/walk off song, Mike prefers 'The Smiths - How Soon Is Now?'
A wireless lapel or headset microphone
A bottle of water on stage, and prior to the performance, a cup of hot black tea with honey and lemon
SOUND CHECK: Mike requires no more than a 30-minute sound check. The sound check needs to occur within two (2) to three (3) hours of his presentation time.
VIDEO TAPING: Mike is happy to be video-taped; a separate Taping Agreement must be authorized by the Customer if they are taping his presentation.
---
1. Digital Keynote (pre-recorded)
Mike will provide his pre-recorded session as either a 4K video file for the client to download and load into their meeting platform - or a password- protected stream that can be embedded on a video page - or as a secure link that can be shared with attendees.

The client will provide the meeting platform of their choice, invite their attendees and screen the pre-recorded video to participants.

No technical rehearsal is necessary for the digital keynote product.

As the client screens the presentation, Mike will join the virtual meeting

live

and be ready to answer participant questions via a moderator.

After the session, Mike will provide a PDF summary of insights and next actions from the presentation.
2. Custom Livecast & Studio Broadcast (live virtual)
For the custom livecast, Mike will be presenting using a green screen for a chroma-key broadcast where he appears seamlessly in front of animated video slides.

The setup can be tested with your platform in a technical rehearsal prior to the event.

Mike will stream live via the platform of the client's choice. His ATEM pro switcher allows his multi-camera setup to simply appear as a webcam to your conference platform.

Mike will not provide his slides, as they have been custom coded and are designed to work as a backdrop only.

In the event the client wishes to pre-record Mike's session, to ensure maximum quality he will create the file to their specifications on his end and provide the file 3 days in advance of the event, and then join for live Q&A after the session.

After the session, Mike will provide a PDF summary of insights and next actions from the presentation.
INSIDE MIKE'S STUDIO
– Camera A: Leica SL2 full frame 4K camera with APO-SUMMICRON-SL 50mm f2 ASPH prime lens
– Camera B: Sigma fp full frame 4K camera with 45mm f2.8 prime lens
– Blackmagic ATEM pro switcher and hardware streaming encoder
– 5 x Rotolight continuous LED location lights
– Blackmagic Video Assist 12G HDR 4K recorder and monitor
– Apple Macbook Pro with LG 5K monitor
– Apple iPad Pro (for questions)
– Tascam Model 12 Audio interface and professional audio mixer
– Sennheiser G3 wireless lapel microphone
– Shure SM7B vocal microphone
– Elgato green screen and 2 x LED Key Lights for chroma-key broadcasting
– Elgato stream deck live action control system
more articles from Mike Walsh