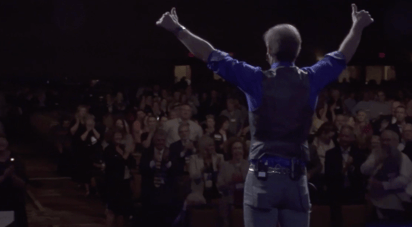 It is remarkable what people can do when they set their minds to it - when they put together ideas and programs that move people to take action in incredible ways. It's one of the things we love best here at cmi – being surrounded by the talent and passion we see in the keynote speakers we represent.
This week, I'm honored to share that Mike Rayburn will be keynoting for a powerful event, The 15th Annual Chapter Leadership Conference for the American Foundation for Suicide Prevention.
Their theme is Saving Lives in Your Community, and it kicks off their bold initiative goal to reduce suicide by 20% by 2025. In a world so often riddled with heartache over the loss of loved ones gone much too soon, I am in awe of this audacious goal and Rayburn is the perfect speaker to deliver empowerment, energy, and hope to the AFSP Chapter Volunteers, Chapter Board Members, and staff from all across the United States. More than 40% of the audience is expected to be first time attendees, so they really wanted someone who could bring everyone together with a unifying message and motivation.
Mike will share his What If keynote, which challenges audiences to ask big, bold questions of themselves, get out of their comfort zones, and let their imaginations and inspiration take the helm to create pathways of new discovery and achieve the unexpected. For volunteers with such an important role helping people – I know it will bring a bright spark to the first full day of their conference.
Rayburn's unique blend of music, humor, thought leadership, and heart is a big win for any audience. Go do what you do best Mike – helping other people to bring out their boldest self!