It's been seven months since Keynote Speaker Mike Rayburn and his guitar have been on stage. COVID 19 drastically transformed the meetings, conferences and events market. The entire industry found itself moving, delaying and outright cancelling functions to accommodate the secluded life of quarantine.
While the world learned to connect with people and businesses virtually, we found ourselves missing physical gatherings' simple pleasures. Like Ariel sang in the Little Mermaid, we wanted to be where the people are. We wanted to see 'em dancin' and walkin' around on those (Whad'ya call 'em?) oh - feet, instead of just their far off faces flooding the screens of our handheld devices. After 7 months of conversing with cameras, addressing audiences from his home studio and urging attendees to ask questions in chat boxes, Mike was ecstatic to hop on a plane to Great Falls, Montana and engage directly with people.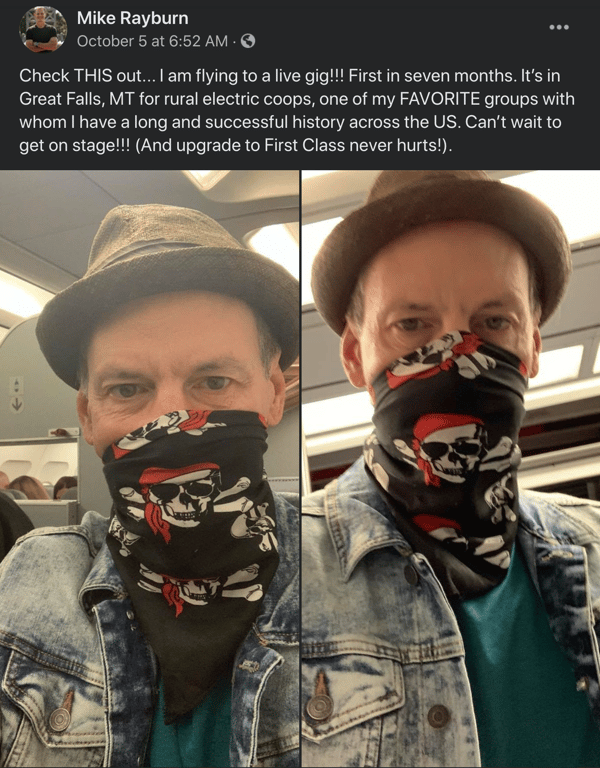 This two-time TED Talk presenter, successful entrepreneur, member of the speaker hall of fame and a featured artist on Sirius/XM has been on stage almost every week of his adult life until the pandemic hit. Human connection is an integral part of Mike's What If Experience and Become A Virtuoso talk. Still conveyed powerfully through screens, the action only amplifies and strikes a more resonant chord delivered in person.
The Montana Electric Cooperatives' Association hosted a noon-hour presentation for their Annual meeting for electric cooperative utilities. There are 25 co-ops in Montana that deliver electricity to about 40% of the state. The Governor gave permission to the cooperatives' association to host the 250 people in attendance. Some masks were worn, and tables were safely distanced from one another.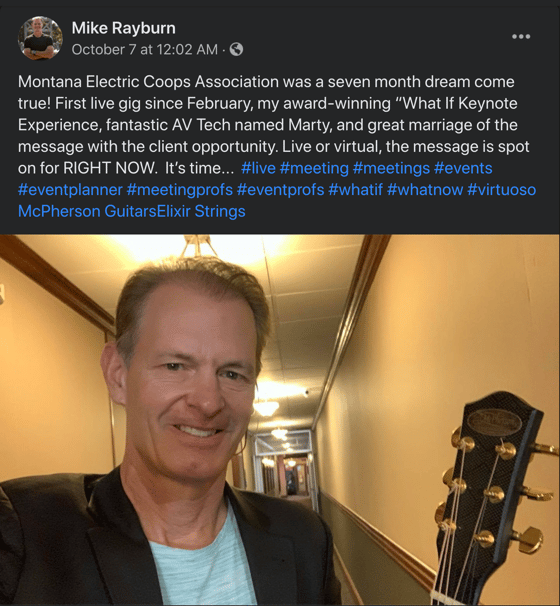 The event was a huge success! One attendee wrote ...
Thank you very much for autographing your book and guitar. I just finished the book and am looking forward to sharing it with my family. As you point out in chapter 16, You Will Have Help!


I have been thinking of what to put on the break room whiteboard at work. I'd been searching the web for something catchy the last two weeks, and now I will be writing 'What if...' and see what employees add. Coincidence? Keep up the great work you are doing."


Book Mike for your virtual or live event today