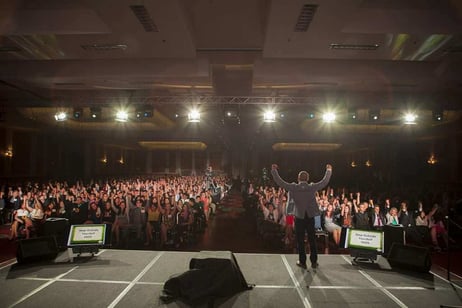 For almost twenty years, my team has been connecting some of the highest quality keynote speakers in the industry with amazing clients all around the globe. We've learned a lot along the way in terms of what works and what doesn't. What helps companies create lasting impact, and what they've shared with us that has left events falling flat. All that information gathering has helped us to create what we know to be the magic formulas for ensuring audiences are always left feeling more empowered, inspired, and with the take-aways that they know will make a difference in their lives and careers.
Part of what we do here is to act as a guide for clients during the event planning process. We use our knowledge, experience, and expertise to help them answer the following questions about our keynote speaker's fees.
Hire The Best Keynote Speaker: Ask These 3 Questions
1. Is He/She he right speaker for our event?
We start with the basics such as what they hope to accomplish for their participants, what they want their attendees to walk away with, and what the actual demographics of the audience looks like. From there, we can help determine what speaker best fits by matching personality, skills, delivery style, and topics to that audience and company.
2. How much should we spend on a speaker?
That depends, again, on what a company wants to accomplish. If they are looking for "just a speech" on a certain topic – they can perhaps choose from the lower end of the fee spectrum. What we've found is that our clients are driven to ensure their audiences have not only an inspired message, but an experience as well. Some want sheer entertainment, others want strategy, solutions, and real-world application. Most want a combination. That requires a keynote speaker with a higher level of skill, experience, presentation consistency, and mastery of their craft. With that comes a higher keynote speaker fee structure. We've represented speakers at many different fee levels – all vetted to have the kind of skill, experience, and mastery that our clients require.
3. How do we know the speaker we choose is authentic?
Good question! Every keynote speaker that we represent has been fully vetted by our team in every way. That means we've done the homework, so our clients don't have to. Our keynote speakers have a strong, credentialed social and online presence (social proof), a solid business foundation, a reputation for excellence and positive reviews from past clients. They have achieved a specific level of experience in terms of number of keynotes they have delivered.
We're not the "biggest shop on the block" – nor do we wish to be. Ours is a boutique agency with a highly select – and carefully selected – group of speakers. While we are growing, we will always stay at a level where we can deliver, with great confidence, the kind of specialized care, consultation, and connection that our clients and speakers have come to expect and rely on. We are passionate about what we do – and committed to helping our keynote speakers continue to bring their messages of innovation, collaboration, leadership, sales/communication mastery, change, hope, endurance, enlightenment and persistence to audiences everywhere. The world is a better place because of them, and we're thrilled to take part in that!
Want to learn more about hiring the right keynote speaker for your next event? Have questions regarding keynote speaker fees? Contact my team today. We're happy to walk you through the process with an experienced and educated consultation, and a big dose of kindness. We look forward to hearing from you!