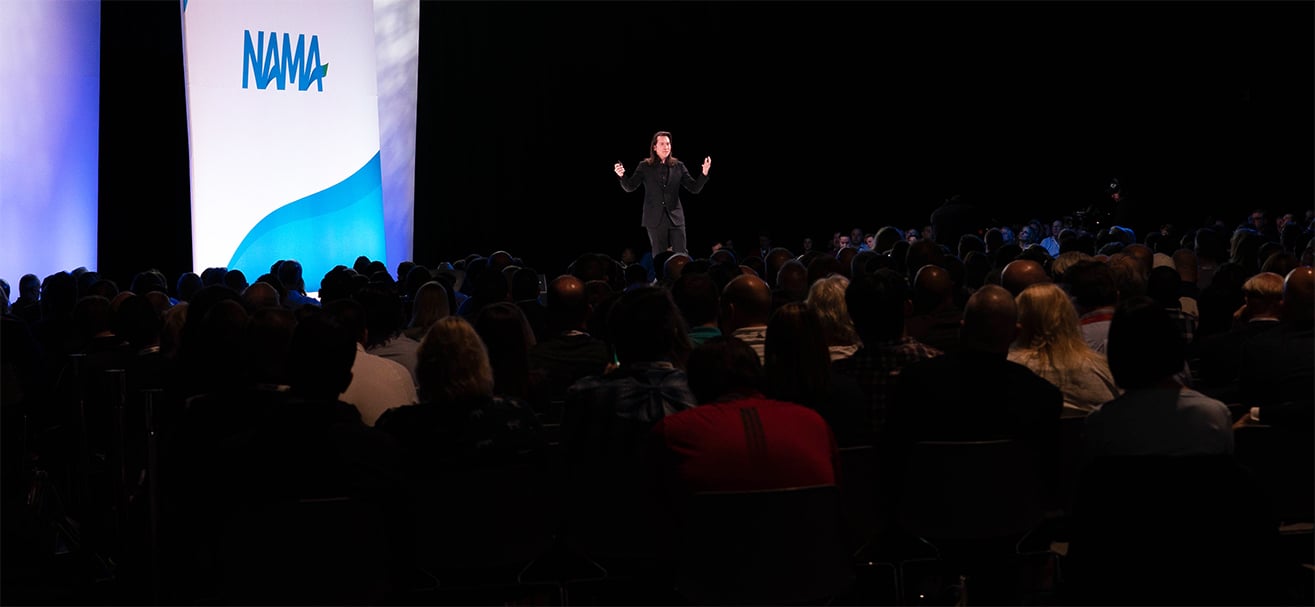 There are a lot of leadership keynote speakers out there in our industry. Some good, some better, and some exceptional. As someone who's been around this "block" a long time and keeps a keen eye on the talent both experienced, and emerging, I'm asked often what I believe to be the differentiators.
What Makes An Exceptional Leadership Keynote Speaker?
Constant reinvention.
The top leadership keynote speakers in the business aren't trading on topics from 20 years ago. They recognize that our world is changing at a lightning pace, and the truth is that it always has. Because of that, they are constantly reimagining their message to meet the needs of shifting markets, mindsets, tools, and technology and helping clients and audiences make those changes in their own lives and businesses. I love Dan Thurmon's take on this with his keynote, Off Balance on Purpose. He challenges audiences to lean into change rather than run from it -- and shows them what a game-changer that can be.
They say no to the status quo.
Whatever position you hold and wherever you are in your life, there are six little words that are almost a guarantee to keep you stuck in the past and shut down forward momentum in a heartbeat. They are, "the way things have always been." Exceptional leaders are just fine with getting a little (or a lot) uncomfortable. They look at status quo as a limited belief system and send it well on its way. Leadership speaker like Mike Rayburn is extraordinary at conveying this message to audiences. His "What If" keynote asks participants to see opportunities where they once only saw obstacles and to turn the tables on "impossibilities". Questions like, "What if I could accomplish that big goal -- how would I?" That's the kind of anti-status quo thinking that creates real change.
They are future-minded.
We live in a time when technology is outdated practically the moment it's released, if not before. That's why bringing in forward-thinking, future-paced keynote speakers who bring the insights and strategies audiences need to anticipate future trends and stay ahead of the curve is so vital for many organizations. We love keynote speaker and futurist Mike Walsh's amazing ability to take what can feel like overwhelming and difficult topics such as Artificial Intelligence and swiftly shifting algorithms and have them not only make sense for audiences, but generate an excitement about what the future lies as well.
They are focused on creating an experience.
Anyone can get up and deliver a "talk" or a "speech". The keynote speakers and leadership experts who get invited back year after year are the ones who take that up a notch (or a hundred notches) to create an experience for audiences. The kind who make people laugh, think, reimagine, believe, and adopt new ideas and innovation that they know can make a difference in their lives.
I think of the way Vinh Giang infuses keynotes with magic, illusion, and an ability to help people see things in entirely different ways.
Or how Clint Pulver creates a next level experience with an electrifying drum solo.
Those are just two examples of exceptional leadership speakers that are extra-mile performers who don't believe in delivering "good-enough". They go above and beyond to deliver entertaining keynotes. The kind who spend infinite hours of practice, patience, content-building, and performance nuances before a presentation that lasts less than an hour. Because it's that important to get it right for every audience. Those are the folks that we applaud here daily. And the kind of leadership keynote speakers we are crazy proud to represent.
I invite you to learn more about the exceptional leadership speakers here at cmi speaker management. Watch their videos. Read their bios. See what difference makers they are.
And when you're ready to learn more about how to hire an exceptional leadership speaker, please give us a call. We've got some experience with that!