As leaders, you choose which emotions you unleash within your team, and we all know that a positive work environment increases employee loyalty, productivity and mental health. But how do you create and maintain that atmosphere?
On today's episode...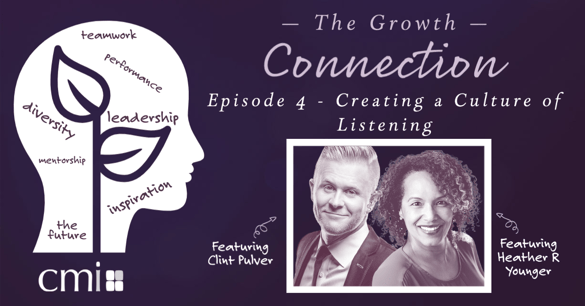 Take some time to learn how to create a Culture of Listening with Heather R Younger and Clint Pulver on this week's episode of The Growth Connection Podcast.
Heather R. Younger is an experienced keynote speaker, two-time author, and the CEO and Founder of Employee Fanatix, a leading employee engagement, leadership development, and DEI consulting firm, where she is on a mission to help leaders understand the power they possess to ensure people feel valued at work. As a champion for positive change in workplaces, communities, and our world, Heather delivers clear and purposeful strategies that drive real business results – such as increased employee engagement, loyalty, collaboration, and connectivity.
Clint Pulver is a motivational keynote speaker, author, musician, and workforce expert. As the president and founder of The Center for Employee Retention, Clint has transformed how corporations like Keller Williams, AT&T, and Hewlett Packard create lasting loyalty through his work and research as "The Undercover Millennial." Known as the Leading Authority on Employee Retention, Clint helps organizations retain, engage, and inspire their team members from the front desk to the board rooms and everyone in between. He expertly helps audiences navigate generational complexities, communication challenges, leadership missteps, and cultural cues.
Takeaways
How did Heather become known as The Employee Whisperer and how her unique insights builds stronger, more loyal teams

Why management shouldn't run away from tough conversations, especially during a pandemic

How to create your own culture of listening

Why delegation and communication are important to removing barriers in the workplace
Click below to listen!