Mentorship comes with a lot of responsibility. Ty Bennett describes it as a Peter Parker moment - with great power comes great responsibility.
Discover how you can become a better mentor and leader to others.
Welcome to The Growth Connection, a podcast to help us all look forward to this year with a growth mindset. We'll feature interviews with cmi's elite roster of experts in the areas of diversity, leadership, the future, mentorship, performance, teamwork and inspiration.
On today's episode...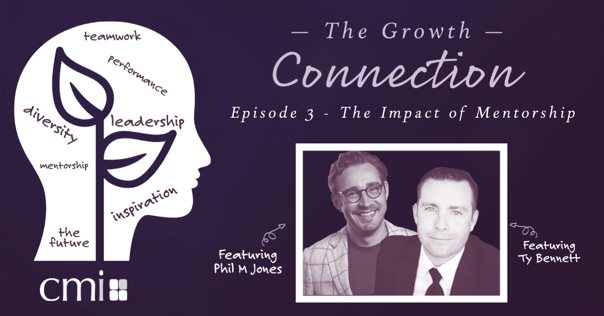 Spend a little time with Ty Bennett and Phil M Jones as they dive deep into the impact of mentorship and the responsibility of shaping minds.
Ty Bennett has spent the last twenty years studying, practicing, and mastering the art of influence. At 21, Ty and his brother built a direct sales business to over $20 million in annual revenues. He developed a system and organization that would help over 500 sales managers fine-tune their sales and leadership skills in over 37 countries and is the author of three best-selling books. He is also the founder of Leadership Inc., a speaking and training company with a mission to empower individuals and organizations to challenge their status quo, cultivate exceptional relationships, and compete in extraordinary ways.
Phil M Jones has made it his life's work to completely demystify the sales process and bring both simplicity and integrity to a world that is often full of big egos and even bigger lies. He's written 8 best-selling books, produced two original programmes for Audible and delivered over 2,500 presentations in 57 countries across five continents. Phil's unique philosophy of using specific word choices to teach people "Exactly What To Say" has made Phil one of the most practical and in-demand business experts on the planet.
Takeaways
The difference between mentorship and leadership

How people respond to different styles of mentorship

Why knowing what you are truly responsible for is so important

How to be a better mentor
Click below to listen!
Transcript
Phil M Jones
So here we are on the growth connection. I'm Phil Jones, joined by the brilliant Ty Bennett. And we're having a conversation today about mentorship. So Ty, what does mentorship mean to you?

Ty Bennett
I think mentorship to me is tied a lot to leadership. I think great leaders take people under their wings. And they don't just lead by example. But also by instruction, they help people grow. Right. Ultimately, I think the goal of leadership is to create other leaders. And I know I've been personally blessed by mentors in my life that have helped me to get to where I am today. I'm sure you have as well. But I also now talk to leaders quite a bit about this mentoring process and how they can not just lead effective teams, but ultimately grow the leadership on their team and do it in more of a strategic fashion.

Phil M Jones
I'm just thinking even as we talk about mentorship is do you choose to be your mentor? Or does somebody choose you to be their mentor?

Ty Bennett
I think it could happen both ways. I think that I have had people describe me as their mentor and been shocked by that statement. I don't know if you've had that experience on that?

Phil M Jones
Yeah- Dang, that feels like a big responsibility. Right?

Ty Bennett
Yeah. Because, you know, they just tend to follow my work or, you know, look at me as kind of that example. And I look at people in my life. And I've had close mentors who I have a very personal relationship with. But I have other people who I consider mentors that I've read their work or studied their life, that I haven't necessarily been mentored day to day by, right. I don't know, what's your experience with that.

Phil M Jones
I've had that same experience of people have been like, oh, Phil's been my mentor about blank, blank and blank and being equally overwhelmed. And then I think about who the mentors are in my life, they've all been almost a conscious decision. I'm working on X, who's better x than me, or who's got experience in that area of x that I haven't got that I can learn from and, and sometimes I've been, I've been fortunate enough to really get up close on that mentor and being able to learn through asking them questions, and then being able to share their experience around those things in full my own opinions. And other times, I haven't been able to get close. So I've just been a spectator or observer of them from afar, and then cast my own opinions on their mentorship even though they had nothing to do with it. So I guess understanding that I found mentors that don't know they have mentored me, doesn't surprise that maybe this replicates into the other area. And I think mentorship is is also a word that gets thrown around a lot without true understanding of what it is. So what was the difference between, say mentoring and coaching?

Ty Bennett
You're such a wordsmith, I'd love your thoughts on this question too. When I think about leaders, I think people are are looking for mentors, not managers. I think that they're looking for somebody who invest deeper into them. That's the the word mentor connotes an investment to me it, it's more purposeful, it's more intentional, it's giving in the approach. It's abundant, and it's mentality. And I think that some leaders lead and they're proficient in what they do, and, but they don't necessarily dive into people's lives and give as fully as others do. And I think that's a big difference between a mentor and a coach or a leader or someone who you look at just more of kind of a manager or supervisor role.

Phil M Jones
And I think mentors can coach and can manage, right? Like those are tools within their toolkit. My general take on mentorship though, is it's often been from experience, that mentor is showing up and they're prepared to actually utilize what they've lived through, work through, gone through, etc. and then being able to give that journey back to others, often without the judgment or the tale of here's what I think you should do. More so of when I was in your situation, this is what I felt, this is what I thought this is what I did. This is what I learned from doing that take from that what you choose to do. So it's almost leadership through experience where you're prepared to be honest with that experience with others. So that you know that they can learn from that. And if we look at us as speakers, like what are some of the greatest mentors that you've had in your world as growing as a professional speaker,

Ty Bennett
you know, one who I didn't know as day to day as some others, but had a huge impact on me with Stephen Covey, the author of seven habits early in my speaking career, I got to know Stephen Covey and had several conversations with him. I live in Utah, he lived in Utah, one conversation, the wall that always impacted me and actually, I think has really shaped my mindset. And my approach was the very first conversation I ever had with him. He was hosting a political event at his home. And I was invited to the event by a mutual friend with the purpose of meeting Stephen Covey. And so after I made a large donation, I was invited to go to this event. And I remember going in and he has this big, beautiful home, and there's all these people there and you're looking around like all these famous people that you would recognize, and my wife and I were there. We mingled for a little bit. And then my friend Kevin brought me over and introduced me to Stephen Covey. And when he did, he said, Stephen, this is Ty Bennett ties writing a book, and he was very gracious. And he said, Ty, what's the title of your book? And I said, it's called the power of influence. It was my first book. And he said, that's a great title. He goes, can I give you some advice? And this was Stephen Covey was like, Yeah, yeah, like, Can I record this? Can I write this down? And the advice he gave, he said, make sure you write the book for the reader, not the writer. And I said, What do you mean by that? And he said, you know, a book that's written for the writer for their own ego. He said, that book just isn't gonna go anywhere. He said, but a book that's written for the reader, to teach and to inspire and to help people. He said, That book is going to be a home run. And then it's like, you got this train of thought going new, as you know, time a lot older than you. I was in my late 20s. He was in his late 60s. And he said, I think we go through life. And we think life is about achievement, right? What's the next step? What's the next goal? And he said, maybe it's with age, but I think at some point, we figure out life is about contribution. It's about how can I serve? How can I give? So that was a two minute conversation. The very first time ever met Stephen Covey. And to me, it totally shaped my mindset I've written about this, I've spoken about it. I think what he taught me in that, obviously, is, if you write a book, you read it for the reader, but that your focus as an influencer, as a leader, as a mentor, as on the other person, it's on the audience, it's on the person that you're leading. It's on the mentee, it's, it's how can you contribute? How can you add value and, and I seek to do that personally. But I also try and teach that mindset as often as possible to the audiences that I speak to. And that was, that's a mentoring conversation that I'll never forget.

Phil M Jones
That's such a huge point as well, as we apply it to the world of speaking also, is there's a difference between using your experience to be able to create a level of greatness in others. And using your experience to say, aren't I great? I think we see both examples of that in this world a huge amount, right is is those two things. And I was having a conversation with a mutual friend of ours Clay Bear the other day, and we were talking about the difference in content. And this certainly applies to leadership too, between Come with me content and look at me content, as speakers, there is this natural feeling to fall into this look at me approach and make yourself the center of the outcome, as opposed to the Come with me, which I would class is more of a mentoring type mindset that says, Okay, I'm going this way, or I've been this way, let me light the way so you can see, as opposed to let's stick everybody in a ring around me and make me brilliant.

Ty Bennett
I like that. Yeah, I mean, Phil, you know, I've, I've written about storytelling. And one of the things that I often remind people is that you shouldn't be the hero of your own story, it goes along with what you're saying, because there's nothing relatable about it. But I think what you're referring to in this mentoring, by experience is that it's not the the mentor, it's not the person who becomes the hero. It's the process. It's the learning through the situation. It's the journey that becomes that hero that we both can learn from together. And I like the distinction between Come with me and look at me that's really good.

Phil M Jones
Yeah, and great mentors. And I think Stephen Covey is that example to you a second ago is never told you what to do. They may be allowed you to see the world from a couple of different perspectives, then shape the decisions that you made that followed. And that's a huge level of responsibility. I think about some of the greatest mentors in my life, and they happen to be all significantly older than me at the time. So my earliest mentor would be my grandmother who showed me a way to be compassionate and inclusive and optimistic regardless of circumstances. And that was such a gift to be able to have lived in witness for that, but never did I get an instructional lesson from and never would she have known how much she mentored me, which I think is really interesting when you think about the ability to influence others without having a direct line of communication. This is okay. It's mentoring time. Now, let's plug into our mentor hour where I'm going to help you be a better man T. It is something we're doing all the time and every leader, right, whether you're the leader of a family, whether you're the leader of an organization, whether you're the leader of a community group, we're all a mentor, whether we choose to be or not.

Ty Bennett
Yeah, I think that's something we have to step up to, right. And recognize the the influence and the impact that we can have, and be willing to hopefully give and share some of our experience in that. Right, what we've, and and it's not just the good, a lot of it's the bad, right? It's being willing to be open and real and vulnerable with some of the challenges that we've had in the learning and growth that comes from that. So

Phil M Jones
how does somebody decide the Okay, I'm responsible for being a mentor to many people, some chosen someone chosen? And I want to get better at this, what is the process around mentorship that says, Okay, I can improve our amount on this right now? Because I don't think anybody's denying the Yes, I have a responsibility towards this in some circumstances. And yes, I want to be better at it. I'm always a view, like you have a house.

Ty Bennett
So I'm currently writing a book called leader of leaders, which really kind of dives into the practical approach to this. So this is geared towards leaders in a role within an organization really targeted at that mid level to C suite leader who their role is not just to supervise a couple of people, but to really grow the leadership acumen with their within their organization. I think the leaders that I've talked to, everybody says, you know, we want to grow our leadership capacity. But how do you do that on a daily basis, especially with all that's on our plate, right, we're all so busy, we all have so much that we need to do. And so the way that I look at it from a practical standpoint, is that you as the leader is you have learners on your team. And your goal is to move them to that position of leader as well, I think that there's some different mentoring approaches based off of the competency of the person you're working with, and based off of the risk of the project, or what it is that you're dealing with at the time. And so what we're writing about and breaking down is sometimes we model leadership, sometimes mentoring is very hands on it's, let me show you how to do this. And let's talk through why I do it a certain way, or why we do it this way, that would kind of be the basic level of modeling, then we move into coaching. And coaching is very hands on if you think about, like I'm a big college basketball fan, I watched a game the other day, and a coach is not on the court. But he is very involved in the every play that's going on in what's happening, and is touching base with people on the way. And so sometimes we're coaching them along the way, we're hands off, but we're saying okay, here's the next step, let me help you through that. And then we move into kind of higher levels of mentoring, where we're more hands off where we're consulting. And consulting is more reactive than proactive, right coaching, you're jumping in, but consulting, you're there when they need you. And then ultimately empowering them, this is your baby, go run with it come back when you know, with a finished project. And so really trying to put a practical how to on a day to day of what mentoring looks like as you're growing leadership on your team. So that's kind of the premise of the mentoring model that we've developed, and that we're putting in the leader of leaders book,

Phil M Jones
I boil it all down, I think from my experiences, I you know, there's a level of management. And then the next level for management is the ability to coach the next level from coaching is the ability to consult. And then above that is to mentor. And to be a successful mentor, you still need to have all of those skills in your arsenal that sit beneath that. And I'm trying to simplify the differences between all of them, as I listen to you and think about my own experiences is the managers are about sharing with you the responsibility of what needs to be done, and then holding you to account of making sure that thing is being done, a great coach is going to be like a mirror, who's going to have the ability to get to ask questions of you to improve the performance of how you get that thing done. And keep you honest in that, which is why I say like a mirror is actually allowing you to see a better version of yourself every time that you look at it. A consultant might help you find the understanding of what you want to get done and why you want to get it done. So actually, you end up with a higher level of leadership because you understand the purpose behind why you're doing something, not just what you're doing is like the real reason that sits behind it. And a mentor takes that one stage further and helps you understand how to think which is really tough. You cannot give somebody an instruction manual on how to think whereas every great mentor has changed the way that people think. And I think it's by presenting them with puzzles, challenges, obstacles and exercises that grow muscles in people's decision making growth muscles in people's mindset, that all of a sudden have them wake up with different levels of confidence and different levels of clarity. But it all works for That framework of having to go through those levels, I don't think you can be a good mentor, unless you've been a good manager, unless you've experienced or being a good coach, unless that you've been on the receiving end of good quality consultation plus you've done bad consultation or have have seen the difference of high quality consultation yourself. And mentorship is like real life stripes on all.

Ty Bennett
I think there is a linear growth process to it for sure. And we gain experience through that I, I'm curious, Phil with you. I mean, obviously, you speak to a lot of groups, but you've also served in roles with companies as kind of that mentor, thought leader, working with them and helping them look at how they think about their approach. And in those roles that you've worked with corporations, what have you found to be effective as the outside thought leader, mentor and those approaches?

Phil M Jones
It's a good question. And the answer is simple. It's the ability to change the vantage point that they're looking at any problem through, quite often, that's what it takes, whenever anybody is looking to work with outside help is typically because they've exhausted all of their existing resources towards the solving of a problem or a challenge, right is like they've taken everything they can they run in it, they've hit some form of dead end, and then they asked for external help to help them fix the same problem. Whereas the outside help normally quickly realizes they're trying to fix the real problem, what a great mentor does is, is they change the vantage point of where you're looking at something from so that could be giving them a new lens to look at it through, it could be moving, the self centered position, they might be looking at that problem through because quite often, what it comes down to is like how do we beat the competition? Yet the answer that they're looking for is how do we better serve the customer? The answer better position is well, what is the promise that you're making to your people that you're currently under serving them with that if you could actually amplify that promise and make that more apparent towards other people, then you would be your competition by default. But if you focus on beating your competition, you're not focusing on winning the game. It's always some form of shift of vantage point. And that takes a level of maturity, though, to be able to get a huge quantity of people to be able to do that. You take your Stephen Covey scenario, there would have been 1000 people that could have said those exact same things to you. And you'd have brushed it off, not because it was less relevant advice, it's because your mind would have been like on other things like, oh, what do I need to get from my wife for a drink while I'm at this thing, and and what's our table number again, except you would have been everywhere else, but because it was Stephen Covey, it had 100% of your attention. And because you empowered him in that moment, to have the mentor power, your mind was open to be molded. And and that's what happens in my world, when I get invited into these environments is they almost have pre decided that you have Oracle, like your powers, they could have had that same set of words said to them from dozens of other people in their organization. And this is where I get to earlier is you have to decide that somebody is your mentor. And only once that's done is the power truly granted, it's kind of Wizard of Oz type type stuff. And I think we have that responsibility as speakers is to understand that a meeting planner or bureau agent a, you know, SVP, you know, a group of committee members in an organization said, this is somebody who we are happy to provide a level of mentorship to our people for this sustained period of time. And that is a Peter Parker moment right, with great power comes great responsibility. Understanding that is huge. I've always said in the speaking world, and I think we've had conversations even at NSA events, etc about this is that it? It isn't a speech to an audience. It's a conversation with hundreds of individual people exactly the same time thought shaping responsibility that exists in any mentor environment is both a lot of fun and a lot of responsibility.

Ty Bennett
For sure, I think, one I know for me and and for you that weighs heavy on me when I'm brought in and at times is intimidating, right? I you probably you've probably had some of these imposter syndrome moments before you stood up for a speech. I remember being in Abu Dhabi speaking to a group of CEOs of oil companies. And right before I went on stage, I'm looking at this audience these shakes and and I'm like, What am I doing here? You know, just just thinking about, you know, the the impact that those words could have on this group and the audience they serve, right where that goes. But I also think that it it pushes us and and pushes leaders to step up to that responsibility of mentorship. right to be heard, right to earn the right to

Phil M Jones
take the responsibility that comes with it. Yeah, but you take every one of those moments where we've had imposter syndrome ahead of an event is because we weren't considering Will we be able to deliver our speech is when we were considering the response. ability of the perceived outcome as a result of that piece of work? Yeah, it was the responsibility attached towards will this make the den? Will this deliver the outcome that they are looking for? I could deliver my speech 1000 times over and now I deliver my speech fine. Yeah, understanding the needs of that audience is what allows you to truly shape your content towards them. And I think that that is a mentor based responsibility.

Ty Bennett
You know, my parents have been great mentors to me. And one of the things they always said, when I was a kid that I don't know, that I thought that much about, but they would always say where much is given, much is required. And I think to this conversation for us in the roles that we serve, but to anybody listening, who has that opportunity to serve in that mentor role, I think that applies where much is given, much is required there, there is a requirement to step up to give more, and to invest yourself fully, to have the kind of impact that a mentor can have.

Phil M Jones
And to use your example of Stephen Covey again, I think so much of mentorship is what happens outside of the moment that you're mentoring. It's actually all the work that sits around it that empowers you to be effective in the moment when you're mentoring. Same as a basketball player, right, the work you're doing the training course, is what allows you to deliver on game day. It's the same metaphor that exists from a mentoring point of view in that if you want to be a better mentor, is understand that congruence is probably one of the most important ingredients is are you what you say you are in every area of your life. And know that if somebody grants you the privilege of being their mentor, which I think is the right word to look at it is that you take that responsibility seriously, not just in the moment, but in every moment where you might be being watched, which in today's market is every moment all the time.

Ty Bennett
Yeah, it exists in all areas of life. I think, you know, as speakers, I truly am inspired by people offstage more than on you know, Phil, you and I've gotten to know each other over the years, and I think you're unbelievable onstage. I love your work. I love your delivery. But having spent time with you and your brilliance offstage, it's congruent to use your word it exists. And because of that the level of credibility that you have with me, is different than somebody that I've seen who's brilliant onstage, but doesn't seem to live up to it off.

Phil M Jones
Yeah, certainly. And same as how I've seen you live your storytelling messaging, your influence messaging, your leadership messaging, in a variety of non commercial areas of life, through the way that you raise your children through to the efforts that you bring onboard into your community, to the way that you support less experienced speakers, the way you give back towards chapter etc, it's, you're living your truth in any given area, and somebody could stumble across across your work, because they'd never seen you on stage and spotted the YouTube video, and then find you live in the exact same set of values when you're in the grocery store and dealing with a shopper system. And I haven't seen you in every one of those moments, but I've never seen you not living what you teach. I was

Ty Bennett
coaching an executive this morning preparing him for a presentation that he has coming up. And we were talking about finding his voice and that this idea and just said I think the biggest thing is being comfortable in your own skin. Because people read that we connect with that. And and I think that that, I think for a lot of people who may be want to be viewed in that mentor state, I think sometimes that's the disconnect is they're not living their values, or maybe don't even know what their values are fully, to be able to live them in all areas of their life. And because of that there's there's a disconnect, and we don't see them in that same light.

Phil M Jones
I got two questions for you, before we wrap this thing up that I'm really intrigued to know the answers to one is, is who is your current mentor towards like where you're looking to get to work on and things in your life? And then the second question I'll give them back to back on purpose is if someone listening into this right now is thinking that they have accepted the responsibility of being a mentor in their role and want to get a lot better and if what is the first thing that you think they should do?

Ty Bennett
So when you ask that question, I think that I have mentors just like you in lots of areas of life, where else say, okay, in terms of speaking, who's somebody further down the road that I want to be like, or that I see their business as something that I want to aspire to, or as a father or as a husband or just in life in general. In general in life. I have a mentor His name is Ulysses Suarez. He's a Brazilian. I actually lived in Portugal for two years, serving a mission for my church when I was 19 to 21. And he was the leader of that mission at the time. So I spent two years being very closely mentored by him And, as luck would have it, he never returned to Brazil but actually moved here to Utah and has close to me since then. So for the last 810 years, I've had a chance to continue to be mentored by him. He's someone that I learned from his example. I'm inspired by the way he lives. I am amazed at his capacity to show love and to be present and to be engaged in not just my life but other people's lives. That's who I would look at as, as my mentor, although there are others and others we could speak about just specifically in the speaker world to your second question, if someone finds that they are in a mentor role, and want to be better at that I, my favorite leadership quote, and I wish I said it, but john Maxwell said it is you can love people without leading them, but you cannot lead people without loving them. And I think that that applies so much to a mentors role that your capacity to truly care about those people that may look at you as a mentor, to because of that love, have patience. Because of that love, be willing to give a little bit more of yourself because of that care, see them for the potential they have and not just for the slow growth or the mistakes that they've made. I think that starts with that mindset.

Phil M Jones
I love that john Maxwell quote, I just wrote it down for myself to ponder on a little later. So good. I guess I should probably answer the same two questions, right?

Ty Bennett
I'd love to hear your thoughts. Okay,

Phil M Jones
I haven't had an individual mentor in any area of my life for for quite some time. And some of that's circumstantial. You know, my life has changed a lot over the last decade through planning and purpose and growth and geographic moves and marriage and babies and all of that good fun life stuff. So I haven't been in one place long enough to be able to cement what would be a traditional mental relationship like the one that you talked about. But I've always had this belief, your success is in direct correlation with the quantity of quality people that you surround yourself with, right, I think we have enough evidence around a variety of personal development spheres to, to not doubt the truth in that. And the result of which is a piece of advice I was given by a very early mentor, a speaker friend of mine called Nigel Reznor in the UK, Nigel once said to me, as if you're ever going to compare yourself with anybody compare the whole of you with the whole event, which you very quickly realize is impossible. So what it led me to then do is to decide that the mentorship that I'm looking for in people is actually not any individual person, because every individual person has flaws in some way. And inevitably, you end up feeling disappointed, because instead of truly seeing somebody as a mentor, you see them as a role model, when then when that role model lets you down in some way you find yourself lost, that for me, made me very vulnerable. So instead, I created a Frankenstein monster of a mental that is a purpose for collaboration of maybe 30 to 50 people at any one period of time with people being subbed on and off the bench on a regular basis like you would a basketball game. So I create this hypothetical mentor in a variety of different different scenarios that I do have real conversations with in my head. And sometimes those conversations have been fueled by a real life conversation I had with one of those specific people. So for example, if I look at longevity within the speaking industry as being something that's important to me, the role that I grab on to that level of mentorship in my life is someone like Scott McKay. But I don't want Scott's mentorship in every area of my life. But for that area of responsibilities, the best person who's closest enough to me to help me navigate that, who I know thinks like me, and a lot of other areas. Therefore, I can give like ultimate value to that in that given area of life. But then when I think about marriage and relationships and balance with kids, etc, different mentors in different ways, for different reasons. Now, so that is my my true answer on who in terms of first steps. I think it's about finding clarity on what you believe you're responsible for. And I know that if people have got to this ended the interview of yourself and myself right now the majority of those people are involved in the events industry in some way, shape, or form. I think the mistake that a lot of people make in the events industry that prevents them being a true mentor is they limit what they believe they're really responsible for, for example, bureau agent believes they're responsible for finding three potential candidates that could be a fit for the speech they're looking for that is on topic of conference, as opposed to the responsibility of helping make sure that both the known and unknown objectives of that event are truly maximized in a multi dimensional capacity. And the mentor leader that takes that bigger picture responsibility of understanding the true impact and it's that never underestimate the impact that you can have on one person's life. I think are all responsibility in The events industry right now is to know that we are not reacting to the change, we are creating the change and seeing if what we can be is honestly take responsibility for a greater outcome than the one that we believed was our responsibility in the past. So from a UI point of view, we become better mentors, if we understand we're responsible for serving the entire event and the business's objectives than delivering a great speech, it shifts that focus again. And that's the challenge I'd have to everybody listening is what are you truly responsible for? And then how do you show up for that refined vision of what success looks like? That's how you can mentor cuz Stephen Covey didn't decide that he was responsible for helping your book perform better. He saw a young talented man with passion, ambition and fuel in his tank, and took the responsibility of saying if I make a two degree shift in the way that you think you might go on to be able to achieve greater things as a result of which, and if history tells me anything that was true, whether it was influenced by him, or it would have been the same regardless, he certainly hasn't heard your career trajectory, like with that shift in thinking. And I think that's what mentorship is about is to go. But But my vision is greater than the moment my vision is for something that is bigger than just that individual point in time. And and that would be the question I'd be asking with people, what are you truly responsible for? And how does that shape the way that you communicate with others, if you move the finish line further out towards a bigger impact, with the knowledge of understanding what really is going on as a result of your actions? long answer, but that's where my head's at on it today.

Ty Bennett
I mean, obviously, we could keep going for a long time talking about mentorship. But, you know, as we wrap this up, I do think you've made some great points in terms of, you know, a mentor, being able to teach through experience, being able to kind of redirect thought process and help people to think differently, is that kind of highest form of leadership and, and all that linear progression along the way to get to that stage and, and each of us stepping up to the responsibility of that as we get a chance to mentor others. This great conversation.

Phil M Jones
Yeah, likewise, I'm stoked to read this new book of yours. It's got a name yet?

Ty Bennett
Leader of Leaders - Mentoring with Competence

Phil M Jones
Can't wait to grab a copy and see how it shapes the way that you lead from the stage. Thanks for chatting my friend.

Ty Bennett
Thank you.