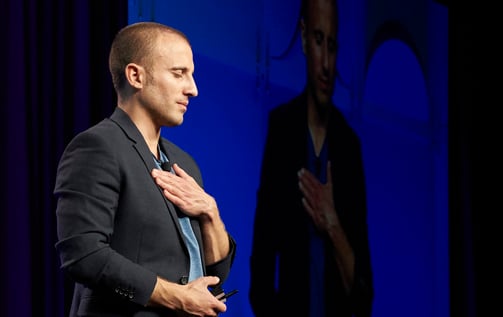 It's not about working harder. It's about working smarter. I'm going to propose an idea: take five focused minutes at the beginning of each day. Sit down at your computer before you start working. Sit down and breathe. Close your eyes if possible, and see what ideas come to you. Rather than going with that initial urge to check email, to respond to text messages, allow some space and ask yourself, "What is the most important thing I have to do today?". Or perhaps don't ask yourself anything, just allow the space to be there. That space will translate in the next few minutes to the most important task that you have to complete that day. Or maybe it will arise in the form of a new idea.
This is called mindfulness and it can be incredibly beneficial during our work lives. According to an article in Mindful.org, "at times of excessive pressure at work, practicing a short mindfulness exercise can be a savior." Most find the slow-down a struggle but it can lead to incredible results in our day-to-day lives. The more you do, the easier it will be.
Slow down, be mindful for new ideas
It's easy to keep yourself busy. It's easy to work 10 or 12 hours a day. It's easy, but perhaps it's not the wisest thing to do. What's wiser is to give yourself some space in your life where you can allow new ideas to come, where you can allow your creative expression to come through. Some of the greatest ideas I've had, some of the greatest exercises, some of the greatest stories haven't come when I'm sitting down at my desk writing and responding to emails. They've actually come after I finish eating breakfast or when I'm out for a hike allowing what I've been focusing on and thinking about, to bubble to the surface with a new idea.
If we're always busying ourselves we will never actually be aware of that bubble when it pops to the surface. To be aware of that idea and aware of that bubble, we have to create mindful space in our work-life, where we can allow those ideas to surface. It can lead to greater results than you thought possible.