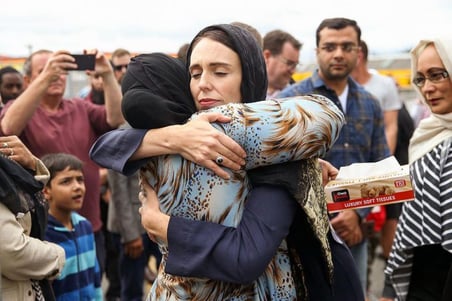 Sadly, the news of mass killings rocks our news waves again and again in today's world. One is too many, right? The aftermath of the recent tragedy in New Zealand is heartbreaking and solemn. We should do better, we think. We can do better. Where does that start?
Recently, Keynote Speaker and good friend Sam Silverstein shared his powerful thoughts on the extraordinary example of accountability leadership displayed by New Zealand's Prime Minister Jacinda Ardern in a moving article. He perfectly sums up how and why her profound response to tragedy in her country makes her a leader of exceptional grace, empathy, and vision.
It is that leadership and vision that led her country to take swift and definitive action in the wake of tragedy. As reported in Vox, "After just one mass shooting, New Zealand's Parliament on Wednesday voted 119-1 to ban most semiautomatic weapons and assault rifles in the country." Her statement, "New Zealand stands apart in its widespread availability of weapons of such destructive nature and force. Today that anomaly ends."
Ardern received praise from all around the globe for her strength and passionate response and quick action to the shooting.
Action in the wake of tragedy. Action in the presence of her grieving citizens. Action in response to senseless tragedy. Action with compassion. That's the kind of leadership the world needs a whole lot more of.
Thank you, Sam, for your brilliant spotlight on the Prime Minister's incredible accountability leadership. May we all learn from her steadfast examples.
Sam Silverstein: delivers leadership strategies, mindsets, and tools to organizations around the globe – helping them to leverage change, communicate more purposefully, and lead with accountability.