How Keynoters are Making a Difference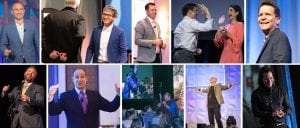 Our world is noisy, chaotic, frustrating, even fearful for many. I believe that is why organizations of every conceivable size are stepping up to bring people together to hear empowering messages from today's keynote speakers. The kind of messages that move people to take action in their lives, to find balance, to believe in the power of relationships, to feel hope – and to adopt change as the necessary ingredient of success that it is. These speakers are working for way more than an ovation – they are "turning on the lightbulbs" for audiences who often feel like there's too much darkness.
It's exciting when they connect. When an audience member internalizes a message that anything's possible in a time where many are feeling as if their heads are bumping against glass ceilings. When you're in the room with a world-class speaker – whether they are speaking to 50 or 1,000 - you can feel the change occur. When what's raging in the news media or outside the conference venue seems fractional compared to the growth and mindset shifts you witness taking place in the room. People are laughing – and they're learning. People are on the edge of their seat and eager for more. That's the difference words from the right people at the right time can make.
From keynote speakers who can move leaders to become more accountable and provide a culture where creativity and collaboration can flourish, to speakers who share how we are more alike as human beings than we are different and speak on the power of diversity, global citizenship, and every kind of speaker in between – these voices are resonating with today's audiences. People need return on investment – and they need real-world solutions. They need productivity propellers – and they also need to laugh out loud. They need to see the big picture, at the same time recognizing how very much little things matter.
Working with speakers who have the immense talent to move people from where they are to where they want and need to be is a passion of every member of our team. We recognize the tremendous work they do to elevate audience experiences – and deliver take-aways that can literally change the lives and careers of others. In a world with a whole lot of noise, it's exceptional to sit in an audience so silent and captivated by a speaker there's almost an electricity in the room – this is why we do what we do. We know helping our speakers share their vision, missions, and messages changes the world for the better. We're pretty darn proud of that. To all the speakers and clients we work with daily to deliver success strategies, leadership, sales, service, humor, and so much more – a nod of thanks for allowing us to be part of the process.