accountability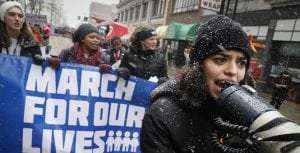 What happens when the way we have always done things isn't working? What happens when change is necessary but we seem stuck in a pattern? What happens when a situation needs a leader, or in this case, leaders?
Each year gun violence in schools is rising. There are more reported incidents of children being harmed in schools than ever before. There does not seem to be an end in sight. What happens now?
What has happened is that the kids stood up and said "Never Again" and lead the March for Our Lives. Read the rest on Sam Silverstein's blog here.