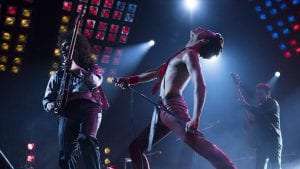 With the release this week of the 91st Academy Award Oscar nominations, it was no surprise to see the Freddie Mercury bio-pic Bohemian Rhapsody score in five coveted categories. With music as complex and iconic as Mercury himself, the movie provides pivotal insights into the creative genius that went into what would end up being labeled as "one of the greatest songs of all time".
According to Irwin Fisch, an Emmy nominated composer and Professor at NYU Steinhardt, "One of the reasons why Bohemian Rhapsody sounds so different is in its structure. The song is neither an a cappella, ballad, opera or rock. It's actually all of them in one song. It advanced a tradition of suites in pop music, meaning not a continuous song, not a verse, chorus, verse, chorus, bridge structure, which was the norm. A put together group of different songs, in essence. So, if people refer to Bohemian Rhapsody as a song, that's a bit of a misnomer. It's actually three or four songs."
Complex, long (almost six minutes), and legendary. Exactly the kind of challenge Keynote Speaker, Musician, and eight-time Carnegie Hall Headliner Mike Rayburn wanted to tackle as a showcase piece for his audiences to underscore his messages of learning to perform at virtuoso levels and peak performance.
Watch below:
https://www.youtube.com/watch?v=xywtoQ56RC8
Learning to play such a difficult piece on the guitar with seemingly impossible key changes and note progression takes arduous hours of practice, musical mastery, and perhaps even a little of Mercury's magic and inspiration. The end result however, whether standing on stage in full rock and roll regalia with a full band and orchestra - or like Mike Rayburn, expertly coaxing classic rock history from a well-tuned and well-loved instrument, delivering a mesmerizing performance for audiences and a chance to pay homage to legendary music and musician - is a thrill in itself.
We'll have to wait and see on February 24th whether Bohemian Rhapsody brings home Oscar gold. Until then, we'll always have YouTube.