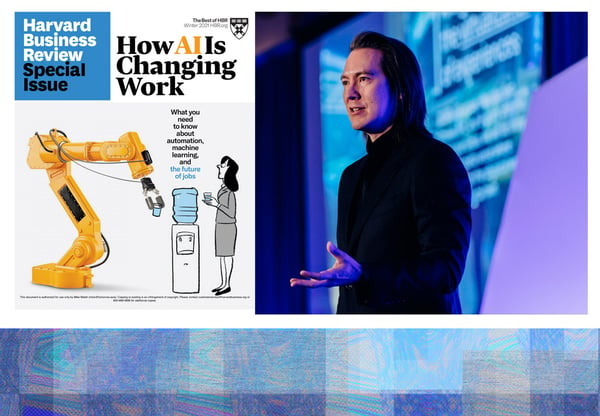 Mike's unique take on the leadership dimensions of digital transformation, AI and the future of work have featured frequently in the Harvard Business Review in the last year - see below for the most recent articles that are getting shared heavily on LinkedIn and Twitter.
COVID19 forced all of us to accelerate our plans for the future, and there has been incredible demand for insights about transformation, especially from a cultural perspective. To that end, Mike has published eight articles along that theme for the HBR in the last 18 months, the most recent being 'How to Navigate the Ambiguity of a Digital Transformation.'
Many of these pieces have struck a real chord with C-suite leaders, who are looking for someone who can clearly articulate the technology and transformation issues they are facing in the post-pandemic world. Recently, one of Mike's articles was also published in a special print edition of the HBR magazine, containing the editor's picks of the best writing on the future of work.
In addition, he's being considered/booked alongside knowledge experts like Peter Diamandis, Erik Brynjolfsson, Andrew McAfee and Salim Ismail. These gentlemen's keynote fees are considerably higher than Mike's current Q1 fee schedule - which gives great value to you! Please contact us soon to lock in preferential pricing.
We're excited to work with you on 2022 events - Happy Holidays - K
HBR - November 2021
HBR - December 2021
HBR - January 2022