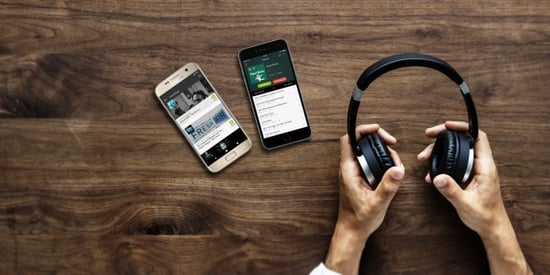 I'm a huge fan of continuous learning and a voracious reader and information gatherer. It sure helps when you're working with clients and speakers from around the world! It's funny how communication and learning has changed so much through the years though isn't it? Long before the internet, social media, and the perpetual news cycle? As professionals, especially, much of the information we consume these days is "on the fly" – as busy lives and full calendars shrink our downtime.
That's one reason podcasts are so popular. According to a new CBS News poll, two-thirds of Americans listen to podcasts at least once in a while, including 23% who do so a few times a week. That's up from the year before where a majority said they never listen to podcasts. Why the popularity jump?
According to Carrie Ryan, Co-Author of Serial Box's Dead Air, "It's information and entertainment, in bite-size chunks, right at our fingertips. While many of us might not take the time to sit down and read a 20k word length article, we can listen to that article in bite sized chunks during our commute to work, especially if it's presented in an entertaining, narrative way."
I totally agree and I wanted to share podcasts that are blazing new trails by two of our amazing keynote speakers, Mike Walsh and Ty Bennett.
Mike's podcast takes listeners on amazing exploration of our world and the compelling technology changes that are shifting the way we work, live, communicate, and relate. You'll find insightful topics such as The Unexpected Economics of the Data-Driven Future, Ethical AI and the Digitally Transformed Insurance Company and visionary ideas such as Future Life in 2030. Learn more here.
Ty's extraordinary guests captivate, educate, and deliver expertly powerful insights. He moderates discussions such as The First Woman to Ski Across Antarctica Solo with world-renowned explorer Felicity Aston, Exploring Limitless with author Laura Gassner Otting, and even life-affirming dialogues such as Our Journey with Stage 4 Cancer with Dan & Charity Lighten. I believe you'll find each episode moving, informative, and transformative. Learn more here.
If you love learning as much as I do, I hope you'll add these two wonderful podcasts to your listening portfolios. You won't be disappointed!