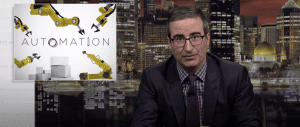 I tuned into late night TV recently and caught an episode of John Oliver's Last Week Tonight and found myself laughing – but also listening when the topic turned to automation. He was right on target – albeit hysterically irreverent. In the episode Oliver shares how recent articles and news stories have started to create panic with gloomy headlines such as "Technology is Taking Your Jobs" making their way to the world stage. He then wisely reminds his audience that technology has been shifting the way we work, live, learn, and more for a very, very long time.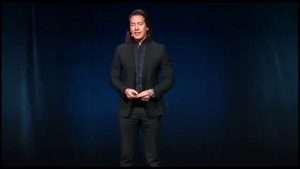 With speaker and author Mike Walsh as a client, the topic made my ears perk right up and I found myself nodding right along. Mike's new book, The Algorithmic Leader: How to Be Smart When Machines are Smarter than You hits the nail on the head in dispelling myths and sharing how savvy consumers and business leaders are leveraging technology instead of fearing it.
The truth is that when we think back even ten years ago, technology and machine intelligence have dramatically changed the way we live, work, communicate and absorb information. It's certainly changed and improved processes and discoveries in fields such as medicine, engineering, and travel.
As an organization that represents some of the top speakers in the business and connects them with clients from all over the globe, I know the impact algorithms and technology have made on our company and the way we operate.
What John Oliver gets right – and what Mike Walsh teaches – is that our world is changing, swiftly, exponentially, and across all lines and all industries. Artificial Intelligence and automation are complex topics that invoke both fear and excitement. Fear for those who refuse to recognize and understand them, and excitement for the opportunities they are.
Thankfully, there are good people like Mike to help break down this extraordinarily complex topic and skillfully (in terms we can all relate to) share what it all means for leaders, employers, team members, and all of us.
Adam Alter, author of the New York Times bestseller Irresistible and Drunk Tank Pink summed up the book perfectly when he wrote, "Mike Walsh's The Algorithmic Leader is an intelligent and timely look at leadership in the digital age. If the twentieth century was governed by leaders of people, the twenty-first will be governed by leaders who understand the relationship between people and the technologies that define the modern workplace. Walsh exposes not just opportunities, but also potential pitfalls, ultimately leaving today's leaders smarter and better prepared for the coming rise of algorithms and big data."