VIRTUAL TOPICS: Mentorship vs Management and Help Your Sales Soar
Can your team use some positivity right now? Something to boost morale? Or even to just spark a smile? Clint's virtual sessions offer an immersive, engaging and entertaining experience - something that makes you feel as if you're sitting in the 1st row at a live event. You'll be blown away by his state-of-the-art virtual space with full production capabilities.
Creating Opportunities Amid Chaos
In this session, Emmy-Award Winner Clint Pulver helps you dive into the mental health tools needed to feel more resilient, less fearful, and ready to leverage change for all it is worth.
This year has brought the kind of change and challenge that has left many of us feeling overwhelmed, unsure, and unsteady.

Going from "How can I?" to "I've got this!" is daring. How do you make the shift from uncertainty to confidence?

The first step is to create a business that always puts clients first, takes time to practice self-care and creates space for change. It's a powerful 'must-do' rather than 'should do' and the secret to success.

In this session, Emmy-Award Winner Clint Pulver helps you dive into the mental health tools needed to feel more resilient, less fearful, and ready to leverage change for all it is worth.

In this comprehensive and innovative message, you will learn how to:
Make mental well-being a priority and why that matters more now than ever
Turn challenges into opportunities for client connection
Shift from "selling" to mentoring clients, which is a win-win for you, your bureau, your clients, and their audiences
Feel more confident, strong, and supported during these challenging times
Send your productivity soaring, with less stress and more success
Clint Pulver has the strategies that can help you turn chaos into a creative opportunity.
If you missed the announcement re Clint's Emmy,
click here.
Mentorship vs Management
This keynote is about:
Why mentorship works over old school management techniques
How to communicate effectively with a multi-generation team
How to create a culture that cultivates, celebrates, and encourages diversity
Understanding the four keys to mentorship within the role of leadership
Today -- employees are looking for leadership that supports, encourages, and gives them the tools they need to grow, adapt, give back – and create real impact. In this unforgettable customized presentation designed to inspire corporate leadership and managers, Clint expertly demonstrates the ground-breaking WHY of mentorship over old school management techniques and HOW every employee is just one caring person away from a phenomenal success story.
As a Corporate Keynote Speaker and retention expert, Clint offers the insider leadership secrets for elevating team and individual engagement, cultivating creative and collaborative environments, and inspiring both themselves and those that they lead. He also shares the life-changing story of Mr. Jensen, who, with one small and simple gift, brought purpose, empowerment, and perspective to a young life – and how each of us has the chance to do the same.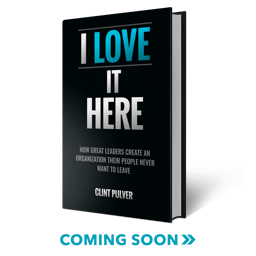 In this powerfully moving session, audience members will be able to:
Adapt to a rapidly changing workforce
Communicate effectively with a multi-generation team
Create a culture that cultivates, celebrates, and encourages diversity

Understand the four keys to mentorship within the role of leadership -

Video - Four Styles of Managers
Develop a greater understanding of their purpose as a leader and mentor
Adopt implementation strategies of how to create cultural change -

Video - Mentor Managers Develop and Advocate
Ready to transform your next leadership training or conference? Hire award-winning speaker Clint Pulver to share Mentorship vs Management and reaffirm, validate, and inspire your leadership and management team to learn how these simple shifts can create inspired and lasting impact on their lives, their teams, and your organization.
The Drumline Experience - click here for video: Clint's keynote can be expanded to include a Drumline where participants get hands-on with drumsticks and buckets - they will experience the simple and effective "how-to's" for creating the mentorship connection.
Help Your Sales Soar
This keynote is about:
Feels more confident and delivers powerful customer experiences
Navigates uncertain times with an innovative shift in mindset and proven processes for creating customer connectivity, trust, and loyalty
How do you help your sales team feel more confident, deliver powerful customer experiences, and navigate uncertain times? With an innovative shift in mindset and proven processes for creating customer connectivity, trust, and loyalty.
That's where sales keynote speaker and retention expert Clint Pulver comes in. In this timely and important message, Clint helps sales professionals unlock the power of "mentoring customers" rather than "closing them" in a sales conversation. Consumers today want to be heard, coached, and consulted with about making the decisions that are right for them. Helping sales teams find that important "groove" and never appear to be "tone-deaf to the sensitivities of the time" is more important now than ever.
United We Stand
This keynote is about:
Develop strategies that create a culture of trust and unity
Understand the power of collaboration between coworkers and management
Create an attitude of contribution and a more positive workplace culture
In today's volatile economy, organizations are finding it more difficult to adapt to expanding costs, shrinking margins, increased competition, and regulation. Teamwork, accountability, and purpose have greatly diminished, leaving employees fearful and paralyzed to step outside of their comfort zones. The result? Decreased revenues, morale, and performance. Motivational Speaker and Retention Expert Clint Pulver offers your organization the ultimate keynote experience that unifies, inspires, and rallies your sales staff, leadership teams, and front-line employees to create a renewed and lasting movement within your organization.
Utilizing his experience as a professional drummer for more than two decades, Clint helps orchestrate your team to success through the power of music by creating a high-energy, interactive, hands-on drumming experience that allows your audience to achieve unity and a renewed sense of loyalty and trust.
In this profoundly moving session, audience members will be able to:
Understand the four keys to creating a lasting movement in their job
Develop strategies that create a culture of trust and unity
Understand the power of collaboration between coworkers and management
Create an attitude of contribution and a more positive workplace culture
Overcome obstacles to break through performance limitations
Walk away with a renewed sense of safety, trust, and commitment
Ready to help your next audience learn how to view difficult situations or change for the opportunities that they are to be solved through collaboration, communication, and personal commitment? Invite Clint Pulver to spotlight the strategies and mindsets that will help them embrace and explore the pursuit of something bigger than themselves – and in turn – lead their teams to embrace and maximize their potential.
The Drumline Experience - click here for video: Clint's keynote can be expanded to include a Drumline where participants get hands-on with drumsticks and buckets - they will experience the simple and effective "how-to's" for creating the mentorship connection.
Virtual Keynote Testimonials
The Problem can be the Solution
Standards and Connection in the Workplace
Mentor Managers Advocate and Develop
Clint's Undercover Millennial Project
Clint Pulver is a motivational keynote speaker, author, musician, Emmy Award Winner and workforce expert.
He's also fun, dynamic, entertaining – and the no-stress speaker clients love to work with.
A Professional Drummer for over 20 years, he's played with top headlining fellow musicians in venues like the Vivint Arena, the Stadium of Fire, and the Kodak Theater in Hollywood. He founded the UVU Drumline known as the Green Man Group, which he directed for six years and went on to direct the Drumline for the NBA's Utah Jazz until 2015.
In September 2020, The Rocky Mountain Emmy Awards, a division of the National Academy of Television Arts and Sciences, awarded Clint his very own golden statue for storyboarding, casting and directing the video Clint Pulver: You're Not a Problem. He's also appeared on America's Got Talent and in feature films with Jack Black (School of Rock) and John Heder (Napoleon Dynamite). Business Q Magazine featured Clint as one of their "Top 40 Under 40" as a premiere Corporate Keynote Speaker.
Known as the Leading Authority on Retention, Clint helps organizations retain, engage, and inspire their team members from the front desk to the board rooms and everyone in between. He expertly helps audiences navigate generational complexities, communication challenges, leadership missteps, and culture cues.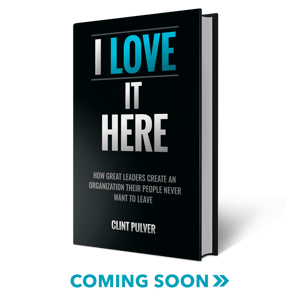 As the president and founder of The Center for Retention, Clint has transformed how corporations like Keller Williams, AT&T, and Hewlett Packard create lasting loyalty through his work and research as "The Undercover Millennial". For over a decade, he has been a self-motivated Entrepreneur who is well versed in business start-up, leadership, sales management, management training, and helping teams grow multi-million-dollar accounts. He uses that experience to create teachable relationship and business strategies based on trust, service, support, connection, and consistent follow-through.
Clint strongly believes that a single moment in time can change a person's life. He has traveled the world speaking to a wide spectrum of diverse audiences, challenging them to dream, excel, connect, and believe--both in themselves and in the power of others. For over a decade, Clint has dedicated his heart to helping organizations understand the younger generation and helping the younger generation better understand themselves by living a life of significance, rather than just a life of success. His mantra? "It's not about being the best in the world…it's about being the best FOR the world."
How is Clint Different?
EDUCATIONAL
Clint's content is lasting, universal, and inspiring. Your participants will come away from the event with a better understanding of their "why", clarity of purpose, and empowering, actionable how-to's to help them perform at their next level as well as lead more extraordinary lives.

TIMELY
Our world – and workforces – are in a constant state of change. As leaders, and as people, the way we manage, communicate, collaborate, and connect has to have the flexibility to change as well. Clint helps audiences create the mindsets and skill sets they need to meet the demands of an ever-shifting world with more agility and ease with a whole lot less stress!

ENERGIZING
As an entertaining motivational speaker, Clint offers the best of two worlds: A high-energy motivator with a powerful message on employee retention and creating moments that matter. Your audience will feel the WOW power from jaw-dropping drum performances, perfectly timed comedy, and expertly delivered messages filled with timely strategies and insights.

ENGAGING
An incredible combination of humor, stories, strategy, and relevant messaging, Clint reaches and connects with every member of your audience. Whether they are in leadership, management, sales, service, support, or education, he'll have them captivated, inspired, and eager to take positive action!
Clint Pulver - Reviews
"Thank you for being "you" and for being the kind of motivational speaker that sounded down to earth and real and someone who would be a good friend. Sometimes I feel like speakers just sting a bunch of positive sayings together, speak loud and get paid a lot of money. At the end of the Q&A session I felt like you were a friend trying to help another friend with a problem. Would love to have you present at my high school opening day. Great presentation. Drum Roll..."
"Great job Clint! You are a great motivational speaker!"
"The presentation was amazing! There were a lot of agreeable and laughable moments along with many relatable moments. I would love to hear clint speak again!"
"Absolutely amazing, authentic energy. The vulnerable quality you speak with and humor infused was absolutely fantastic. I wish that this session could have been double, I needed to hear a lot more of your insights. Thank you so much!"
WASBO Mentorship Vs Management Event, Education Attendee Comments
---
"The great thing about Clint coming and working with Educators is bringing that outside perspective on the importance of education without telling teachers that they have to do anything more than care about their students and empower their students just by being who they are. It is so refreshing that it's not 14 more things to put on their plate for curriculum, but to help them to really focus on relationships and really focus on what we call came into education, which is making the world a better place through the lives of our kids."
Dr. Lorri Elliott, SDE Program Coordinator
---
"Bringing somebody like Clint in helps you recognize that there is a whole child involved. It isn't just the test scores, it isn't just the rise in achievement, it isn't just mastering curriculum. And a lot of bringing somebody to an Event like this focuses on that, but none of that can happen if we can't also take a look at children as puzzles that we can try and solve a little bit. Someone like Clint can help us reflect and be mindful of the fact that those parents sent the best kids they had. We can teach them to read, and we can teach them to write, but Clint reminds us of the opportunity every day to educate the "whole" child. I have reservations whenever we hire somebody we've never seen before, or something we've never done before, but the thing that reinforced my decision to bring Clint was the story that he brings. It was worth it. We had people who were visibly emotional. You can't make more of a powerful and lasting impact than that. And it worked. It worked it worked it worked!"
Lauren Reynolds, National SDE Program Director
---
"The energy was so high as people left the ballroom, and it continued as they gathered afterwards. Clint set a great tone for the conference--there was a great mix of message as well as interaction. I've never seen our whole audience on their feet!"
Jamie Chylynski, Washington Association of School Administrators
---
"Clint's presentation was outstanding and it was a great closer for the first day of our event. He was high energy, and who can say enough about the drums? Thank-you, thank-you."
Carl Boyington, Utah Association of Secondary School Administrators
"Clint is both effective and inspiring. He is a courageous and animated speakers who uses his personal story to empower and teach others. His presentation on Mentorship vs Management really hit the mark and had several "ah ha" moments."
Wendy Ruud, Independent Community Banks of North Dakota
---
"Clint is engaging and informative. He has the ability to capture a room, draw everybody's attention, make everybody feel like they understand what he's saying, and then take some of that back and use it as a take-aways. There's a number of inspirational speakers out there that are trying to find their place on the circuit, and Clint is one of those individuals that everybody should take a hard look at--he is different, energetic, and he finds a way to connect unlike anybody I've ever seen. What differentiates him from other speakers is that he has tangible takeaways that others do not. Make sure you have venue that thrives off of the electricity that Clint brings to the table."
John Hamilton, Oregon Restaurant and Lodging Association
---
"A greater focus on mentorship in the workplace is now truly a key to our success. I highly recommend Clint. You will not be disappointed."
Dianna Kokoszka, Keller Williams Realty Inc.
---
"Clint's keynote is still being talked about within our company. The engagement, humor, content, and movement he created for us at Hewlett Packard will not be forgotten. He is without a doubt one of the most effective speakers we've ever had."
Bob Southworth, Hewlett Packard
---
Clint Pulver Introduction
Clint Pulver has spent his professional career traveling the world helping organizations diminish turnover and create customer loyalty that lasts. As the leading authority on Employee Retention, he has worked with thousands of individuals at all levels of various organizations. Launching in April 2021 is Clint's new book, "I Love It Here" - based on years of his research as The Undercover Millennial®.

Clint has been on America's Got Talent and in movies with actors like Jack Black and Jon Heder. He also won an Emmy-Award in 2020 for his storytelling and film directing. He loves flying helicopters in his spare time, and also enjoys long walks to the fridge. Let's give a big welcome to CLINT PULVER!!!
Clint Pulver Technical Requirements - Live Events
Clint requires 2 hours for setup time. If it's a morning presentation, he prefers to setup the night before.
Lavaliere or headset microphone only.
Drum Set. Six Piece Drum Kit. See below: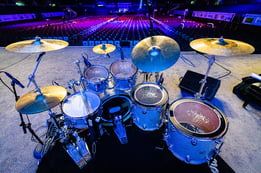 Drum Microphones. Five mountable drum mics for the snare, mounted and floor toms, and a DMK-57 or 52 bass mic for the bass drum. Please note: regular handheld microphones are NOT
recommended.


System: Please provide one professional-quality sound system with two 15-inch EXTERNAL speakers that will adequately cover the drum set area and project well to the number of people at your event, keeping in mind that Clint's presentation includes his live drums as well as speaking. NOTE: in-house ceiling speakers are not acceptable.


Two 18-inch subwoofers are also required on or under the front of the stage.


One 12-inch sound monitor—placed on the right side of the drum set. This monitor will be used to play back "Pour Some Sugar on Me" and "We Will Rock You" during Clint's Keynote.


STAGING: Clint has presented in many different situations. We will address all situations in terms of Clint's minimum requirements but as always, the better the staging the better the program.

Please provide at least an 8'x12' or larger stage or riser appropriate for the room, audience, and situation.
An additional 4-foot riser on the stage is recommended, but not required. (this will allow your audience the best view of Clint's drumming.)
If the stage is made of portable sections please make sure it doesn't squeak or move when walked on, especially at down center stage.
PLEASE HAVE THE AUDIENCE AS CLOSE TO THE STAGE AS POSSIBLE. Closer proximity facilitates better connection between presenter and audience. We recommend the maximum distance from Clint be no more than 10 feet.
Have this program in the smallest room that will comfortably accommodate the number of attendees you expect. The less empty space in the room, the better the energy and connection and again, the better the presentation.

Stage lighting. Good stage lighting is a must. Clint provides a high-energy presentation with a drum solo. We recommend effects and strobe lighting if possible.
Big Screen: Please provide screens for as large as the room will allow.
IMAG: is not required. If you do provide IMAG, ideal placement should be to either side of stage without obstruction.
Background Screen: During Clint's presentation, the screen image should either be your company logo or your event's theme slide. We have created an "Intro Screen" which you can use before and/or after Clint's presentation. 

Large Paper Flip Chart on an easel with working markers, placed on stage right towards the back.
Clint will have three different music tracks played during and after his keynote. All tracks can be found and played from Spotify or iTunes:
"Pour Some Sugar On Me" – Def Leppard 2017 Remastered version
"We Will Rock You" – Queen
"Tom Sawyer" – Rush
Clint will work with the audio engineer and production team on the timing and placement of each track that will play during his keynote.
No PowerPoint support required.
---
Technical Requirements - Virtual Events
Clint's virtual presentation will be hosted on the client's existing meeting platform.

The client will create and host the meeting, and distribute the invite to the attendees.

Clint works with any meeting platform of the client's choosing.

Client will recommend that attendees wear headphones for optimal audio quality.

A moderator from the client's team to help with questions and audience interaction.

If needed, cmi will provide a moderator.
Rehearsal /Sound Check
A few days prior, Clint requires one soundcheck with the host of the meeting to go over schedule, theme, intros, and to test audio levels from drums, microphones, connection speed, etc.

The day of the event, Clint will join the host 30 minutes prior to the event start time. He will mute his video and audio until he is introduced.
INSIDE CLINT'S STUDIO
Clint's studio is complete with the following equipment:
Blackmagic Switcher

4 Lumix G7 Cameras, featuring 1 aerial camera

4 Lumix G Vario 7-14mm wide lens

Custom built PC Tower for live streaming

Boss FS-6 Dual Foot Switcher

6 Piece DW Collector Series Acrylic Drumset with full LED triggered light system

Zoom H6 audio recorder interface

16 Channel Professional Effects Mixer

Roland V02HD Switcher

Sennheiser EW112PG4 lavalier microphone

Macbook Pro

Shure SM57 snare drum microphone

Shure Beta 52A kick drum microphone

4 Sennheiser E604 tom drum microphones

Maxtek easel whiteboard

Audio-Visual Direct Flipchart

2 Blizzard Hotbox RGBAWLED uplights

3 Godox SL60W LED studio lights

2 Neewer soft box lights

40 inch JVC high-definition monitor

4 Neewer Bicolor 660 LED studio lights

Ubigear 60M Ethernet Cable

All cameras are powered by Gonine DMWAC Power Adapters

1 Logitech stream cam

Complete Soundproof Studio
A moderator from the client's team to help with questions and audience interaction is encouraged and preferred.
If needed, a moderator from Clint's team may be requested ahead of time.