About Phil M Jones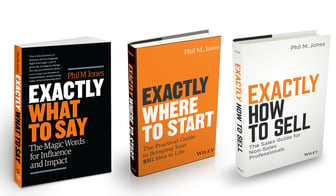 Exactly Like...Nobody Else
Master of Influence and Persuasion - Author of The Best Selling "Exactly" Book Series with over 500k in Sales - Producer of "Most Listened To" Audiobook of 2018
Phil entered the world of business at the tender age of 14. With nothing more than a bucket and sponge, he went from single-handedly washing cars on weekends to hiring a fleet of friends working on his behalf, resulting in him earning more than his teachers by the time he was 15.
Soon after, at just 18, Phil was offered the role of Sales Manager at UK fashion retailer Debenhams – making him the youngest Sales Manager in the company's history.
His early career continued as he worked with a host of Premier League Football Clubs to help them secure sponsorships and licensing agreements, to then being a key part of growing a £240m property business.
After several years of being one of the most in-demand young sales leaders in the UK, Phil decided it was time to dedicate his future to helping others to succeed.
With this as Phil's core mission, he has gone on to deliver over 2,500 presentations in 57 countries across five continents, training more than two million people (both sales and non-sales professionals, leaders and experts) to learn how to have more influence, confidence and control when steering their conversations.
Phil's unique philosophy of using specific word choices to teach his audiences "Exactly What To Say" in order to influence, persuade and drive outcomes, has made Phil one of the most practical and in-demand business speakers on the planet.
Short Bio
Phil M Jones is a master of influence and persuasion – the author of the best selling "Exactly" Book Series with almost 1 million copies sold – and producer of the "Most Listened To" Audiobook of 2018. An entrepreneur since the age of 14, formerly the youngest sales leader of a major fashion retailer who also worked with a host of Premier League Football Clubs, Phil's "Magic Words" give leaders more impact, sales teams improved conversions, and team members more influence in their daily conversations.