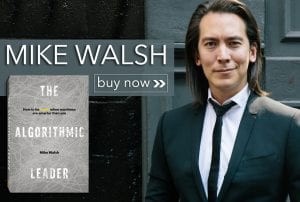 March 14, 2019, Calgary, AB: cmi speaker management announces new book launch for in-demand keynote speaker client Mike Walsh.
Acclaimed futurist and speaker Mike Walsh launched his new book THE ALGORITHMIC LEADER this month with rave reviews coming in from around the world on its potential impact for industry and global leaders.
At a time when machine learning and artificial intelligence are hot topics, often swirling with controversy, Mr. Walsh has garnered tremendous respect for his ability to break down complex theories, strategies, and data and make them relative, timely, and actionable for business professionals.
In his words, "The greatest threat we face is not robots replacing us, but our reluctance to reinvent ourselves."
"Mike makes the abstract concepts and real-world realities of AI, automation, and algorithms come to life for audiences," shared cmi's CEO Karen Harris. "He helps them replace the fear of technology advancements and job replacement with thought-provoking questions and an eagerness to learn how they can harness these powerful world changes for good within their businesses and lives."
Mike's book is a cumulation of years of research and development honed from pioneers, scientists, and global leaders. His solutions and insights straddle industries, generations, cultures – and even time. He shares the 10 core principles for readers to learn how to be open to transformational opportunities and game-changing intelligence that can lead them to cutting edge results personally and professionally.
About Mike Walsh
Mike is the CEO of Tomorrow, a global consultancy on designing companies for the 21st century. He advises leaders on how to thrive in the current era of disruptive technological change. Mike's bestselling books include 'Futuretainment' and 'The Dictionary of Dangerous Ideas'. Each week he interviews provocative thinkers, innovators and troublemakers on his weekly podcast, 'Between Worlds'. A true nomad, Mike travels over 300 days a year worldwide, researching trends, collecting innovation case studies and presenting on the future of business.
About cmi speaker management
cmi is a global meeting industry leader which represents an international roster of carefully selected keynote speakers who positively impact millions of people through their keynote speeches, books, and thought leadership.