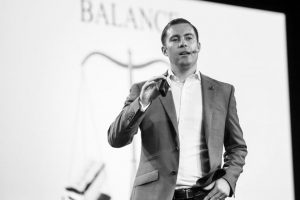 Based on popular demand, the International Casual Furnishings Association has invited Keynote Speaker and Customer Service Expert Ty Bennett to kick start their sales and training session at their third Educational Conference slated for February 2019. With his easy and engaging stage presence, Bennett will dissect the art and science of a sale and treat audience attendees to potent how-to's for developing powerful customer relationships, identifying buying signs, and providing the kind of service that creates customers for life.
"Ty Bennett is one of our top requested speakers for sales and service audiences," said Karen Harris, CEO of cmi speakers. "Audiences relate to him so well – which, in turn, helps them to truly take his message to heart, and take back from the experience the tools, strategies, and mindsets they need to thrive in a constantly changing consumer market. He is passionate about helping organizations and individuals grow and fine-tune the skills they need to succeed at high levels and that comes across in every keynote he delivers. I believe that's why he's invited by clients to return again and again by his clients."
Ty is the founder of Leadership Inc., a speaking and training company with a mission to empower individuals and organizations to challenge their status quo, cultivate exceptional relationships, and compete in extraordinary ways. His mission is to change lives, one leader at a time.
He built a direct sales business to over $20 million in annual revenues, developed a system that helps over 500 leaders fine tune their skills in more than 37 countries, was featured as a Top 40 Under 40, dubbed one of the 10 Coolest Entrepreneurs in Utah, and is the author of three best-selling books.
He has traversed the world speaking to tens of thousands of audience members transforming the lives, careers, and business practices of leaders from some of the most recognizable brands in the world such as: Coca-Cola, Subway, Blue Cross Blue Shield and RE/MAX.
cmi is a global meeting industry leader which represents an international roster of carefully selected speakers who positively impact millions of people through their keynote speeches, books, and thought leadership.
CONTACT:
Dori Weisenberger
877-307-7403
admin@cmispeakers.com