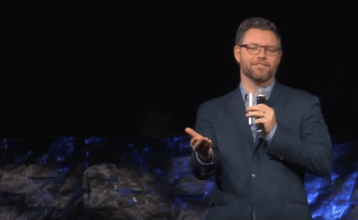 July 2018, Los Angeles, California. Business Keynote Speaker Jason Hewlett delivered his signature keynote "The Promise" to a record crowd of more than 15,300 audience members on June 25th to close this year's powerhouse MDRT event.
In his keynote, The Promise, Hewlett poses questions to the audience such as, "Are you keeping The Promise to your 'audience' – those customers who count on you to deliver mission, vision, and value – every time? Do you embrace the amazing talents of each member of your team, filling your workplace with a culture of encouragement and trust?"
The topic wowed the crowd and earned Hewlett a standing ovation. "This topic is one of Jason's most in-demand" shared Karen Harris, CEO of cmi speaker management. "That's no surprise for us, because in today's world, a speaker that can both deliver an on-point and timely message AND world-class entertainment is an amazing fit for audiences. In "The Promise", Jason shares smart business strategies and solutions for gaining and retaining clients and integrates tools and techniques to take Work Teams to entirely new levels. He's hilarious and engaging. He also delivers a message that is impactful and inspiring."

The Annual Meeting of The Million Dollar Round Table is considered the pinnacle event for the organization each year. It's goal, according to sources is, "For attendees to hear inspiring speakers, learn insights from some of the best minds in the world and share their best practices and innovations with peers to help attain new levels of success. The MDRT Annual Meeting is where MDRT members learn to be well-rounded individuals, improving their lives both personally and professionally."
Hall of Fame Speaker, CPAE, Award-Winning Entertainer, Master of Ceremonies, Author, Entrepreneur
Jason Hewlett has delivered thousands of corporate presentations, successfully combining message, authenticity, humor, music, and impersonations. Jason's presentations have been described as, "A SHOW with a message and a keynote that hilariously entertains." His ability as a seasoned speaker, entertainer, and behind-the-scenes event advisor, Jason has become one of America's top presenters for the largest corporate events.
cmi is a global meeting industry leader which represents an international roster of carefully selected speakers who positively impact millions of people through their keynote speeches, books, and thought leadership.
CONTACT:
Dori Weisenberger
877-307-7403
admin@cmispeakers.com