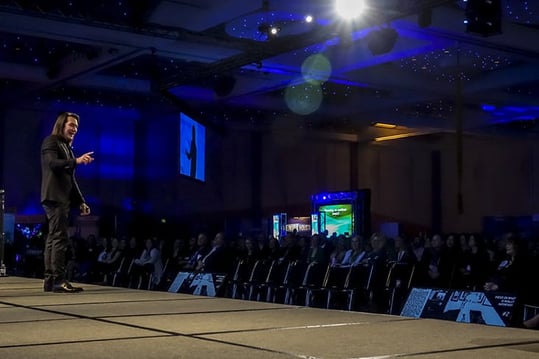 June 2018: Houston, TX. Keynote Speaker and Global Consultant Mike Walsh to open the Hospitality Industry Technology Exposition and Conference June 18th at the George R. Brown Convention Center in Houston, Texas USA.
The Hospitality Industry Technology Exposition and Conference (HITEC®) is the world's largest and oldest hospitality technology exposition and conference brand and is produced by Hospitality Financial and Technology Professionals (HFTP®), a global nonprofit hospitality association that is headquartered in Austin, Texas.
Delivering his game-changing topic: "Reinventing Leadership for the Age of Machine Intelligence," Walsh shares powerful strategies for thriving in our world of disruptive technological change. His unique anthropological approach scans the world for emerging technologies and disruptive human behavior shifts to help leaders and business professionals develop transformational plans for growth, momentum, and opportunity.
Audiences will walk away with an insight into the companies, technologies, and global forces currently shaping the age of machine intelligence, as well as a set of tailored next action steps to redesign their organizations, reimagine their roles, and reinvent the way they make decisions.
Walsh adds about his upcoming presentation, "Technology succeeds when it disappears, in the moment it becomes so embedded in the fabric of our daily lives that we are no longer conscious of it. The algorithmic travellers of tomorrow will not be satisfied with having their requests met, they will expect that hospitality brands can predict and anticipate their needs, that their interactions with digital systems will be more human, and that, with data and AI, we can orchestrate experiences that are truly personal and memorable."
"In our fast-paced, hyper-connected world, giving audiences the tools to discern what works and what doesn't for their industry is a must" shared cmi CEO Karen Harris. "Mike Walsh is one of the most insightful, knowledgeable, and skilled thought-leaders in this field, which makes him an in-demand speaker, especially for technology-driven organizations."
Mike is the CEO of Tomorrow, a global consultancy on designing companies for the 21st century. He advises leaders on how to thrive in the current era of disruptive technological change. Mike's bestselling books include 'Futuretainment' and 'The Dictionary of Dangerous Ideas'. Each week he interviews provocative thinkers, innovators and troublemakers on his weekly podcast, 'Between Worlds'. A true nomad, Mike travels over 300 days a year worldwide, researching trends, collecting innovation case studies and presenting on the future of business.
cmi is a global meeting industry leader which represents an international roster of carefully selected speakers who positively impact millions of people through their keynote speeches, books, and thought leadership.
CONTACT:
Dori Weisenberger
877-307-7403 / admin@cmispeakers.com