Suggested Keynote Speaker Programs
VIRTUAL TOPIC: Leading Others Through Change
During this live, virtual presentation, Dan Thurmon provides a shift in thinking plus strategies to transform the current disruption into your biggest opportunity for growth - to put you back on purpose. Coming to you from his broadcasting studio, Dan incorporates different sets for strategic learning - he integrates live stunts, acrobatics and yes, knife throwing, to enhance your team's engagement - and he encourages real-time interaction.
Keynote: Positive CHAOS
What if CHAOS isn't a bad thing? How can you harness constant change into a force for growth and opportunity? In his new keynote presentation, Dan Thurmon, author of Off Balance On Purpose, teaches how to excel in uncertainty and take confident action right now to create amplified, desirable future outcomes. Gain insights and tools to transform your C.H.A.O.S. from "Challenging, Hectic, Anxious, Overwhelming Stress" into "Challenging, Healthy, Aspirational, Ongoing Symmetry." Learn to see clear patterns in what now appears random, and take intentional action to shape them for your benefit!
Attendees will be able to:
– Understand and use the principles of Chaos Theory in order to take more confident action during uncertain times.
– Identify existing patterns within seemingly random or unpredictable events, or within consistent recurring similar situations and obstacles.
– Shape those patterns more intentionally to create dramatically better future results.
Of course, Dan delivers this keynote with the added IMPACT of his signature acrobatic and interactive elements, so that it will be one of the most talked about, memorable experiences of your conference.
Bottom line: Your people will be more confident and comfortable in the midst of change. They will be more resourceful and precise with their ability to succeed and lead others.
Keynote: Off Balance On Purpose
A common challenge for organizations today is helping their employees bring more energy to work and not only embrace change but see it as an opportunity to lead.
Dan Thurmon believes the reason that people struggle with change is they think they have to compartmentalize their life and keep everything in balance. What if we lived Off Balance on Purpose? What if instead of resisting uncertainty, we leaned into it? And what if rather than bringing our "work-self" to the office, we brought 100% of who we are?
In this keynote, Dan excites his audience with an interactive performance while giving them a multi-dimensional view of success. He doesn't stand behind a podium and talk about dealing with fear and change – he does handstands on the podium to demonstrate what being uncomfortable and living off balance on purpose actually looks like. Your audience will talk about this presentation for years to come!
As a result of attending this program attendees will:
• Learn to take ACTION when it is uncomfortable.
• Manage energy and time more effectively.
• Adopt an Off Balance On Purpose approach as a realistic and empowering way to excel at work and life.
WORKSHOP: Off Balance on Purpose in Practice
Your people are your organization. When individuals perform well, the organization does too. For organizations to truly thrive, especially with a millennial workforce, they need to provide hands-on opportunities for personal development and create a culture of personal performance.
"Change is hard. Motivation is only valuable if there is ACTION that creates change. That is why I created this workshop – to help you deliver real change for your teams." Dan Thurmon
This workshop is interactive (each participant gets their own workbook), introspective and personal. After the course, participants will be equipped to better integrate all aspects of their life so each area is strengthened and fully developed. Participants will also take stock of what they should stop/start/continue and create an action plan for themselves.
Enhancing personal performance is the new corporate strategy. Adding this workshop to Dan's keynote on the same day will reinforce and solidify this year's goals for your organization.
It isn't really possible to "always be at your best because every moment counts" - some moments count much more than others. That's why it's more important to be your best when it matters the most.
In this keynote, peak performance speaker Dan Thurmon explores the reasons why some individuals fail under pressure, and why others seem to naturally rise to handle critical moments with ease and excellence. This isn't an innate talent – it's an ability that can be learned and mastered. Dan calls it "Perform-Ability."
The key to being able to "perform," or deliver excellence when it matters the most, is to prepare properly and understand the mindset and methods of top performers. Dan demonstrates these concepts in his signature high-impact style that includes juggling, acrobatics, and even a unicycle. Audiences leave this unforgettable session armed with new tools and the enthusiasm to tackle their biggest challenges.
As a result of attending this program attendees will:
Understand the three aspects of an effective performance.
Recognize critical moments to perform and rise to the occasion.
Adopt the mindset and methods of peak performers.
More rewarding experiences for team members and clients.
What Happens When You Lean Into Uncertainty
Leverage your past to face future challenges
Why Balance is the Wrong Goal
About Dan
A teacher of peak performance, an author of impactful books and presentations, and a lifelong student of success, happiness, and achievement, Dan Thurmon is on a mission. To encourage attendees' uniqueness and contributions. To discover a sense of purpose and greatness. To have meaning at work, and in their lives.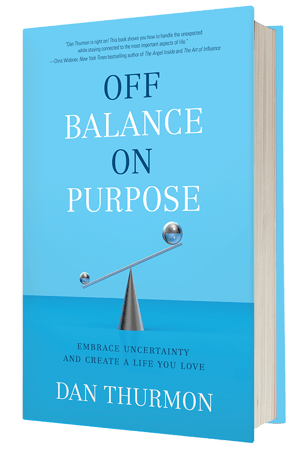 At an early age, Dan learned the power of performance, on stage and in the various parts of our life. When he was eleven years old, he encountered a mentor who taught him some amazing physical skills, but also gave him a channel for his bountiful energy. He quickly excelled as a variety artist, comedy entertainer, and entrepreneur. Even in his high school years, the connection between business awareness, high level service, and self-improvement became evident and fascinating.
Graduating with honors, his entertainment business paid for his business degree at the University of Georgia. He applied the lessons in sales, management, and marketing to his entrepreneurial ventures in real time.
Since that critical pivot of life and work, he has worked with organizations around the world, in every spectrum of business: Fortune 500 companies. Startups. Associations across hundreds of industries. Troops on the front lines. Students, teachers, and entrepreneurs. Through his presentations and workshops, Dan helps these organizations to accelerate improvement, facilitate true breakthroughs and enable and encourage greatness.
Inducted into the Speakers Hall of Fame and a member of the illustrious Speakers Roundtable, Dan also served as President of the National Speakers Association, leading their CEO, staff and 3,500 world-wide members in a profound transformation.
Dan believes deeply that the right words, presented in the right way, at the right time, can change everything. His lifelong study of language and presentation skills have enabled a mastery of landing the critical idea that will shift an individual...or an organization. His opening presentations enable more productive and transformational meetings. Or as a closer, he provides a call to action that elevates the experience and the ROI of a meeting investment.
Organizational change happens when people make breakthroughs. Dan's presentations help organizations to become more of who they strive to be. When that happens, people become better. Companies become better. And the world becomes better.
Dan and his teenage daughter Maggie Thurmon have become social media sensations on TikTok, with a rapidly growing audience of nearly 5 million followers. Several of their videos have been viewed more than 30 million times, and they have been featured on other platforms including BuzzFeed and Huffington Post. Maggie and Dan's creative, fun, and encouraging content resonates strongly around the world, attracting high level brand partners and bringing recognition wherever they go. Together, they uplift, encourage, and entertain others while modeling a healthy father/daughter dynamic. Their new podcast, Mags and Dad's Wholesome Chaos, shares a weekly conversation about relationships, success, and hilarious stories to help parents and teens "do life together" with greater fun and confidence.
This incredible and vast new audience has given Dan a multi-generational perspective and informed his understanding of Gen Z, the power and use of social media, and the potential downsides of a world driven by increasing attention to screens and constant content. He has learned much of what is now relevant and the cutting edge of what is possible (and problematic) in our increasingly connected world.
Dan Thurmon - Reviews
"The feedback about your presentation has been absolutely outstanding. You were the perfect combination of entertainment, personality with a strong and very relevant message."
Sue Wolk, Nat'l Court Reporters Association
---
"His presentation was informational, motivational, and FUN! What a great way to start the conference."
Jennifer Roush, Sr Director of Operations and Events, Texas Travel Industry Association
"After hiring you three times, I manage to still find tremendous nuggets of wisdom to take away from your exhilarating presentations."
Reed A. Lynn, WILD Flavors, Inc.
---
"If you want to motivate, inform, educate, entertain and deliver a presentation that your team will not forget... by all means pick Dan Thurmon to 'deliver the difference' for you."
Ken Myers, President, Romacorp, Inc.
---
"Your ability to weave what you learned during our meetings and your trip with one of our consultants in the field really helped build up your credibility with our field staff."
Mark G. Moraitakas, Chick-fil-A
---
Dan was incredible! The managers, staff and owner operators couldn't stop talking about the session. The juggling, unicycle, acrobatics and the handstand on the podium were all tied to the learning. It was a home run!
Jim Mulcahy, Traning Director, McDonald's
"We just can't thank you enough for recommending Dan Thurmon and for all of your assistance with our National Sales Meeting. He was positively phenomenal!!!!!"
Nihon Kohden
---
Wow! People still stop me in the hall to tell me what a wonderful job you did. Far and away, your presentation received the highest ratings ever!
Bryan Kindred, CEO, DCH Health System
"Dan was wonderful! He was so easy to work with, very warm and accommodating. It was a pleasure to have him with us. As noted in my evaluation, his presentation was great and well received by our group."
Suzanne Oliver, MACU
---
Your ability to put such a positive spin on something like multitasking - which many people dread - is a testament to your skill and ability.
Miki Wilson, Regional VP, AIMCO
---
Your presentations at our eleven 'In Focus Events' delivered an important and inspiring message, unlike anything our dealers have ever experienced.
Blane Haywood, Shaw Flooring Alliance
---
I have heard numerous attendees say that you are the BEST presenter they have ever seen, and I would have to agree! Your energy and enthusiasm are evident from the moment you take the stage, and it's infectious.
Ellen H. Wentz, Deloitte
---
Your presentation was OUTSTANDING and it really helped us start our week on a positive note. All of our attendees have said how much they enjoyed your session – it was informational, motivational, and FUN!
Sarah Wegner, Director of HR, Drury Hotels
---
Dan Thurmon was, by far, the highest rated aspect of our conference, based on attendee survey results. His presentation was inspirational, energetic, and captivating.
Scott Frymire, Activant Solutions
Wow! What an amazing keynote. So encouraging & applicable to every industry.
This was amazing!! Super interactive and motivating! Loved this!!!
Dan was great! Wonderful energy and motivational.
ASI Chicago 2021 Attendees
---
Dan Thurmon Introduction
Dan Thurmon is the author of two books, a Hall of Fame speaker, and a recognized expert in delivering peak performances, on stage and in the workplace.
He has delivered thousands of presentations across six continents for business leaders, TEDx Talks, troops on the front lines, and he's even performed for royalty.
Dan's philosophy can be summarized by the title of his book, Off Balance On Purpose. He believes that we will never achieve "perfect balance" and should, instead, learn to embrace uncertainty and initiate positive changes that lead to growth.
So, ladies and gentlemen, get ready to expand your thinking, sharpen your focus, and have some fun. Please help me welcome,
Dan Thurmon.
Dan Thurmon Technical Requirements - Live Events
In order for Dan to deliver the highest quality presentation, we ask that you coordinate with the venue to provide the following items. This will ensure that Dan is able to have the maximum impact and perform all of his physical demonstrations.
Please provide a riser (stage) measuring 12 feet deep by 32 feet wide, preferably set on the longer side of a rectangular room. The riser ensures safety and visibility for Dan's tumbling entrance and other demonstrations. The only limiting factor is the tumbling run. Less than 24' means no tumbling. 32' is ideal (two back handsprings).
Wireless lavaliere microphone (Dan travels with his own Countryman E6 headset, which will plug into your lavaliere system).
Music playback capability. Please provide an IPod connection (1/8 inch mini cable) OR Dan can bring his music on a portable drive for your audio technician.
Hollow lectern, suitable for the storage of Dan's props.
Because of the juggling stunts, it is ideal to have a ceiling height of at least 12 feet.
Dan will need to trigger a blackout (all lights completely out) at one point during his presentation. He can do this himself if the controls are within reach, or Dan will need someone to turn the lights off on his cue.
In certain presentations, Dan may wish to include video or slides. He can do this from his laptop or provide the files for your technician.
---
Client's Requirements
Dan's virtual presentation will be hosted on the client's existing meeting platform.
Dan works with any meeting platform of the client's choosing.
The client will create and host the meeting, and distribute the invite to the attendees.
Inside Dan's "DT Live" Studio:
Shure wireless microphone system
Countryman Lavaliere Microphone
2 Blackmagic Studio HD Cameras
2 Canon XA20 Cameras
Blackmagic A TEM Switcher
Blackmagic Hyperdeck
Lumix GH4 Camera
Mac Pro
MacBook Pro
Samsung Flip 65
65" Samsung Monitor
Zoom Enterprise Account
Rode Procaster microphone
6 Dracast 1000 LED lights
4-6 stage DMX512 LED lights
Additional softboxes and ring light
All the above creates 3 different sets for Dan to produce from (Library, Classroom, Stage).
Two or more people in DT Live Studio: Producer/switch operator, and Camera/computer operator/Grip.
A behind-the-scene moderator from Dan's team is available during the event to monitor the chat for questions, if desired.
Rehearsal
A few days prior, Dan requires one technical rehearsal with the moderator and the host of the meeting.
The day of the event, Dan will join the host 20 minutes prior to the event start time. He will mute his video and audio until he is introduced.
GETTING OFF THE FENCE – HOW TO MAKE TOUGH DECISIONS
E

SCAPING MENTAL PRISON