John "Gucci" Foley is a former Lead Solo Pilot of the Blue Angels, "Top Ten Carrier Pilot," a best-selling author and an expert on high-performance teams.
And we are proud to announce that he is also the newest member of the cmi family!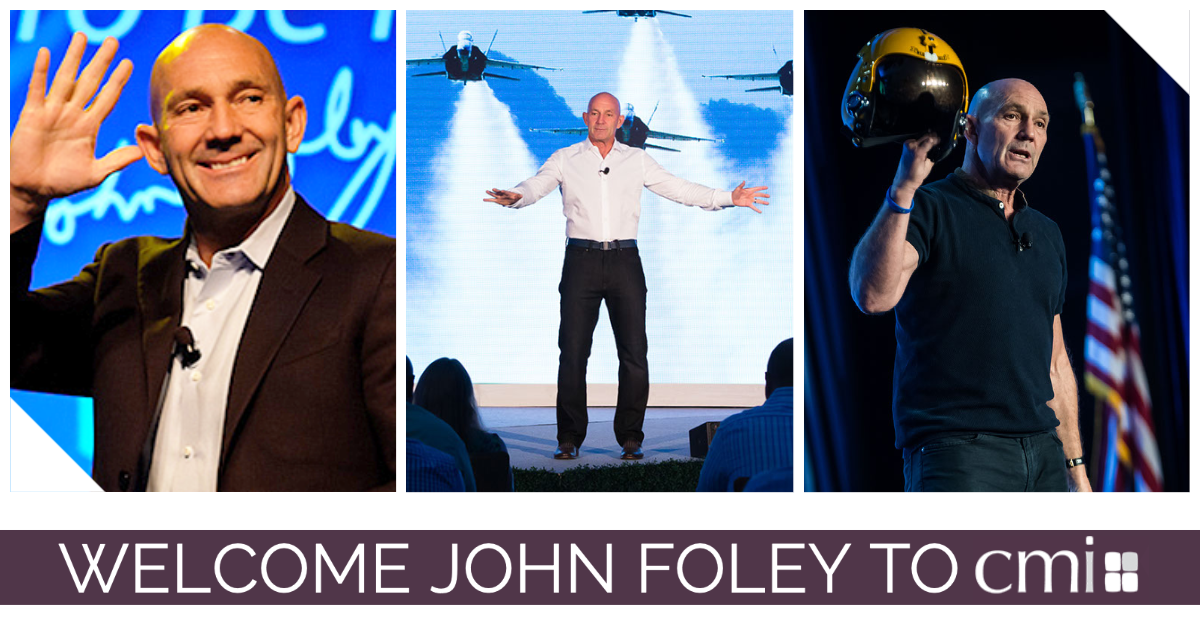 Connecting, aligning, and unifying virtual teams can be a daunting task. John's message of trust and high-performance teamwork speaks directly to virtual teams. His unique keynote experience leaves audiences feeling inspired, energized, and "Glad to Be Here®"
As a keynote speaker, John has inspired over 1,000 organizations to increase trust, elevate execution and build a culture of excellence. He's delivered his Glad To Be Here message at over 1,000 events, to over 1 million people worldwide.
No other speaker in the world shares John's life experiences.
He has continually reinvented himself, working as an entrepreneur, venture capitalist, leadership expert, keynote speaker, and the best-selling author of Fearless Success.
John Foley's message goes above and beyond expectations. With engaging stories and electrifying videos of Blue Angel aerobatics, his presentations will give your organization a renewed spirit, purpose and energy. John's events inspire, motivate and align teams to improve performance, strengthen teamwork, and thrive with a Glad to Be Here Mindset.
As the founder and CEO of CenterPoint Companies—which provides business performance training to companies worldwide—John knows first-hand how the best of the best excel and continually improve. By thoroughly studying the current climate within your workplace and reflecting on his past experiences, John Foley delivers personalized programs aligned with company culture and event goals. This detail-oriented customization will give your people the experience of a lifetime.
Inspiring Top Performing Organizations -
Why Should You Hire John Foley?
John's process for building a culture of excellence aligns with any company striving for the top.

He knows how to align teams with your vision to fly in formation.

John's debriefing process creates a safe space for teams to trust, communicate and execute.

His approach inspires a disciplined dedication to teamwork.

John has delivered his extraordinary message at over 1 thousand events to over 1 million people.

He is a natural motivator with a proven record of inspiring greatness.

John holds 3 Masters degrees, an honorary Ph.D., and was a pilot in the movie Top Gun!
Welcome to the cmi family John!