Insights from Inca
By Keynote Speaker Yossi Ghinsberg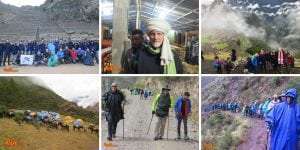 We landed in Lima an odd group of 35 people and drew attention at the airport as we made a lot of noise. Israelis speak loudly and with passion. To the uninitiated it seems they are about to explode! What made us odder was the way we looked – ragged. The first half were Israeli Army handicapped soldiers who were maimed defending a country. They were injured in combat, by acts of terror, or in training while serving their mandatory duty. The other half, me amongst them, was a team of volunteers that came to support these 'salt of the earth soldiers' as mentors, on an adventure of a lifetime, climbing by foot to the legendary lost city of the Inca - Machu Picchu.
(A few words on being an earthling and global citizen, and Israeli as well. I am an earthling, earth is my birthplace, all people, regardless of race, origin, or creed are my brothers and sisters. Yet I was born and raised in Israel, and that makes me an Israeli. I am proud of my culture and my heritage. At the same time, I think we should drop our nationalities and hang onto our cultures. Nationalities foster separation, cultures unite us. Sometimes I wish aliens would appear – if only to help us see that we are all from here. One tiny planet, a blue speck in a milky way. One HUMAN race. Our planet belongs to all of us.)
From Lima we flew to Cusco, the capital of the empire of the Inca. The legend tells a story of two drops that fell from the sky into the big lake, Titicaca. They emerged as two gods, brother and sister who came to establish heaven on earth. With a golden stick they searched for the perfect place to build their city - it was Cusco. The old city of Ollantaytambo, is where we started our trek. It is nestled amongst the Andes, like a jewel, almost unchanged. The stones intact tell a tall story of a successful empire where no one went poor or hungry.
Early in the morning our group started to climb, from the height of 2800 meters (9,186 feet) we ascend. Leading the expedition was Opher Ugash, who is built like a rock. He is a legend of the most elite combat units, now retired from the army, and has built an adventure travel company that specializes in extreme challenges. The trail was narrow, the air thin, and weather conditions predicted hailstorms and constant rain. In the brief to the escorts, Opher expressed great satisfaction, telling us that climbing the mountain in bad weather was not much harder, but it would make everyone more miserable! Opher knew what we knew -- the greater the sacrifice the greater the joy you reap! I already climbed to Machu Picchu twice. I was 21 years old the first time, 33 years old the second time, and I am 59 now. For those walking on crutches, wheeling a wheelchair, or dragging an artificial limb, it is clear that a person has a handicap. But, what no one knew was that a few months earlier my disk herniated and for 6 months, I couldn't even stand. The pressure and inflammation in my spinal canal was the most debilitating pain I have ever experienced, and I was still recovering when I got the call to join the expedition.
When you face a challenge, and you think you cannot make it, the best way to move on is to help someone else. Focusing on someone else is where our true power is revealed. A goal that is larger than ourselves, the need to help another, is far greater than our need to do things for ourselves. So I held on to Shai Yair, who lost his leg by friendly fire as he battled the slippery slopes. I was his fallback support as we climbed some 900 meters (2,952 feet) into the thinning air.
At the lead was a fierce group who sets the merciless pace. Asael, an officer who took a direct hit by a missile to his combat vehicle, spent two years in a hospital bed, and still has a few hundred pieces of steal fragments floating in his body. Closely behind him, Shimon who was decorated for his bravery saving trapped soldiers in the casbah, who cannot stand without crutches, but boy, he sure could walk uphill fast! Despite the weather, no one gave up or complained, inspired by our leaders.
At night the cold was below zero, with a steady, freezing rain. To my horror, I discovered that my tent leaked and my sleeping bag was wet. A night like that became the definition of misery, endurance the name of the game, accepting pain, and enduring.
We were escorted by a team of Peruvian sherpas, quick to support every need. They drove a mule with our equipment up the mountains, set up camps, and cooked tasty, healthy food to support us heart, muscle, and soul. At 4600 meters (15,091 feet) and two more days of hiking in rain, hail, and cold, we reached our destination -- a deserted well from ancient times. A place selected for a very special ceremony. We gathered in a circle, each soldier telling their story of bravery and endurance, then burying an item that reminds the past that needs to be left behind. The mountain taught us our limitations are not real. Trauma is an opportunity to grow and tragedy can make us appreciate our life and aspire for a better future rather than become victims.
We mourned enough for ourselves, for the ones we loved who stayed behind. Life is for the living. Their stories? Raz was stabbed seven times in his neck and back, the knife missed his heart by millimeters. Roy was run over by a terrorist driving a car into a group of soldiers. Shai wounded by an explosion of an RPG. Shimon took a full round in the casbah. Asael took a direct hit of an anti-tank missile. Rotem, had a grenade explode in his armed vehicle. Akiva took a brick thrown from a roof of a four-story high building straight to his neck. These and more stories of bravery and sacrifice were extraordinary, and the tears fell. Each buried something of meaning. Moran buried her crutches. Shimon, his boots still covered in blood. Asael, a piece of shrapnel that came out of his body. Shai, the identity disk. Itamar, his red beret. Memories thrown deep into an ancient well in Peru. Both surreal and real.
The following day we descended to Machu Picchu all of us together bonded as a family forever.
As for me, I buried my injuries silently. The previous year was the hardest in my life, not only my back injury, but also my soul injury. My family had fallen apart. I was separated from my loved ones, my kids far away, and I mourned the death of love. My handicap was hidden but present. I managed to climb to 4600 meters (15,091 feet) to help others, and be the storyteller on duty to carry everyone deep into the nights with stories of adventure and inspiration. What I learned is how limitless life is. That life is a gift regardless of hardship and challenges make us strong. On that trip to the mountain, we touched the heavens, and, having buried our ghosts in the ground, ensured that nothing can haunt us or bring us down again.
A big thank you from the cmi team to Yossi for sharing this story! Click here if you would like to see a video about this experience. Yossi's artful ability to communicate what he has learned in ways that help organizations and audience members grow and adapt to change is extraordinary. To learn more about Yossi, his adventures, and the lessons he shares with audiences worldwide, please click here.