As leaders, you choose which emotions you unleash within your team, and we all know that a positive work environment increases employee loyalty, productivity and mental health. But how do you create and maintain that atmosphere?
Welcome to The Growth Connection, a podcast to help us all look forward to this year with a growth mindset. We'll feature interviews with cmi's elite roster of experts in the areas of diversity, leadership, the future, mentorship, performance, teamwork and inspiration.
On today's episode...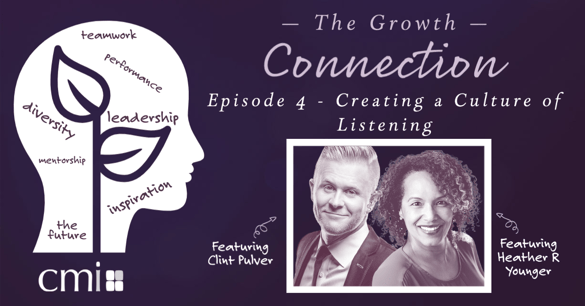 Take some time to learn how to create a Culture of Listening with Heather R Younger and Clint Pulver on this week's episode of The Growth Connection Podcast.
Heather R. Younger is an experienced keynote speaker, two-time author, and the CEO and Founder of Employee Fanatix, a leading employee engagement, leadership development, and DEI consulting firm, where she is on a mission to help leaders understand the power they possess to ensure people feel valued at work. As a champion for positive change in workplaces, communities, and our world, Heather delivers clear and purposeful strategies that drive real business results – such as increased employee engagement, loyalty, collaboration, and connectivity.
Clint Pulver is a motivational keynote speaker, author, musician, and workforce expert. As the president and founder of The Center for Employee Retention, Clint has transformed how corporations like Keller Williams, AT&T, and Hewlett Packard create lasting loyalty through his work and research as "The Undercover Millennial." Known as the Leading Authority on Employee Retention, Clint helps organizations retain, engage, and inspire their team members from the front desk to the board rooms and everyone in between. He expertly helps audiences navigate generational complexities, communication challenges, leadership missteps, and cultural cues.
Takeaways
How did Heather become known as The Employee Whisperer and how her unique insights builds stronger, more loyal teams

Why management shouldn't run away from tough conversations, especially during a pandemic

How to create your own culture of listening

Why delegation and communication are important to removing barriers in the workplace
Click below to listen!
Transcript
Clint Pulver
Hey everybody what's going on? My name is Clint Pulver and I am so excited to have the amazing guest. Heather Younger is in the studio today, her virtual studio. I'm in my studio and we are kicking off this podcast series and Heather, I am so excited to be hanging with you this morning. How are you?

Heather R Younger
I'm doing great. It's beautiful. Beautiful. I'm in Colorado. It's a snowy day. So I'm having fun.

Clint Pulver
You guys have a lot of snow right now. Is it melted? Some is it?

Heather R Younger
No, it's snowing actively right now. You know, this is this is that time of year I want snow. It makes me feel kind of vibrant and upbeat.

Clint Pulver
If it's gonna be cold, it might as well be beautiful cold right? And we're in Utah. So I'm not far from you. And yeah, I'm right there. I agree, you should at least have some snow.

Heather, you and I hang out in kind of the same space, this this world of employee loyalty and how to build organizations that people never want to leave? You are known as the employee whisperer. Tell us what that means. Where did that come from? A little bit of your background.

Heather R Younger
Okay, so the reason why I'm where I'm at right now is because some years ago, over the years, I've actually been managing people for a long, long time. And some years ago, I went through a merger of some companies. And during the merger, the I noticed that the culture was going downhill, no one was listening to employees, they really are the ones that are driving the business forward. And so what happened is, I could see the trust breakdown. And people from other teams would come to me and ask me what was happening, why weren't leaders communicating with them? And so I went, I was starting to feel down myself through the merger. And so I went to the head of HR. And I said, Listen, we have got to do something about our engagement, about our lack of trust and the fear that's brewing underneath the surface. And she said, You know what, you're right. You should go do something about that. I was like, Huh, I was leading customer experience at the time, not HR. And I said, Okay, I'm gonna go ahead and do it, I did it. Because I knew I had already been kind of a culture bear inside the organization, and people would come to me and they knew I would be there be a good voice for them. And I'd like to uplift people. So I did it. And within quick order, people started to trust each other, we made them start to interact with each other, we did fun games and things to bring them together. And, and it was right in that period, where I realized there was such a huge need for folks, somebody to be the voice for the people, for the employees who drive the business forward to the executive leaders who actually can do something about it something to really to change the experience for those people who are moving the bus forward. So I just chose to be that. So within about few months after we started, that's about six months after the council started, the merger didn't go all that well. And they did have to do a lot of layoffs. And I was in that first round. And even though it hurt at that point, I knew that it was I was called to do that work to be the voice for those who didn't ordinarily have a voice who felt a little hopeless and helpless, and be able to give that to those who could change it. So that's where I'm at today.

Clint Pulver
Amazing. And so since that point to where you are now, tell us a little bit about what you do for organizations, your your background and experience, obviously has, you've been doing this for how many years, Heather?

Heather R Younger
Well, me, I've been in this field for now about 10 years and been full time in my current role right now for about three years. So it's been a really interesting ride, I haven't looked back since I decided to go on my own. And what right now what we focus on was a focus on helping organizations create listening cultures. And so we do that through helping them with employee engagement surveys, focus groups, employee resource groups, and affinity groups within the diversity inclusion space. We also help obviously, I do executive coaching for leaders that really want to utilize me and my background. And then we do some training. And and of course, I'm a speaker. So all of these things are, are wrapped into one to really help organizations create better listening cultures.

Clint Pulver
And I think creating a better listening culture right now is so important. I mean, COVID-19 just disrupted so many different industries. There's obviously been some businesses that have thrived during this time. And then there's been businesses that are barely hanging on. What have you seen right now, during this time, that great leaders are great organizations have been doing to create a better listening culture? Because I think there's a you know, some listeners and people that have businesses, right, they have employees, and they're looking for ideas, how do we do that better? How do I obviously still maintain a business and function with profitability and productivity, marketing, but also how do I take care of my people? Because yes, they drive the business forward. So what have you seen and what would maybe be a few recommendations on how leaders can can do that better right now?

Heather R Younger
Well, it's interesting because I, you know, going back to why listening cultures why why is that the focus? It is because when we think about the people who are in the front line, oh, The frontline with our customers, the ones who know the most about the business, we need to be listening to them. They're the ones who know our customers best, our customers, the ones that pay our bills. So we're talking about profitability. If we aren't listening to the people who are closest to where the profit comes from, we are going to really see ourselves in a heap of trouble, right? So we want to make sure that we're listening first, when we are listening, listening at all levels of the organization, from the frontline, all the way up, we're able to then aggregate those voices in a way that speaks to us, helps us with strategy helps us actually helps us with productivity, because if people feel like their voices are heard, like they do matter, and that their voices are powerful, they're going to go over and above and do more for the team and the organization. So that's really the thing that we want to focus on creating that listening space. And I say, create a listening culture, because for examples, a lot of organizations will listen via a survey, they may do a poll survey and a survey, yes, but they don't do anything about it. Or if they do something about it, they never connect the dots back to the people who use their voices to and then the action that they're deciding to take. So it's connecting the two and organizations that do that very well, are the ones that are going to really prosper in this type of environment.

Clint Pulver
So how would you recommend that they do that?

Heather R Younger
Have a plan, you know, you don't go into a survey or into focus groups or activity groups or just like, Let's go, let people talk, you know, you have to have know the why behind it, you have to know how it's going to happen and what you're going to do with it. So having a plan to start with is most important. Because, again, I've seen organizations way too much go in and they do 123, like tactical things, but they don't have and the idea from a big picture of where they're going with it, and what the end goal is. So I mean, listening first could be a manager on a one on one on one, right? It could be when they're just doing, you know, performance reviews, it could be a one on one session where they're just meeting with their people weekly, which should be a regular cadence for managers. It could be from an organizational view, it could be the surveys or focus groups are culture teams. And what they're doing is they're listening, and they're making sure that they're corralling all of what they're hearing and starting to look for big themes, what are the things that our people really need, and want from us in order to have a better experience inside the workplace? And when I when they have that better experience? What is going to make them go the extra mile, what's going to make them be so enthused, that they're going to sell products harder, right, they're going to be better when it comes to the customer interaction, they're going to be better when it comes to their co worker interactions. So all of those things come to the forefront. But we have to start with listening first, and all of these these other ways around the organization.

Clint Pulver
Yeah. What would you say Heather to a busy CEO, or an overstressed manager, who, you know, they click in their emails, they open up their inbox every day, they've got a to do list that is this long. They've got so many other things on weighing on their mind, other things that are pulling their attention. And they might be listening to this going, Okay, I get it. I get it. Listening is important. But I don't have time. I don't I am so busy. And you expect me to, to meet individually and to have a listening session? What would you say to somebody that's in that situation? That's just busy. And sometimes they you know, it's easy to forget about people, it still matters. But what would you maybe advocate for on how to do that better?

Heather R Younger
Well, I mean, I would say number one, I've been there. Again, I've managed people my majority of my life, and I know exactly what it means to move them down the totem pole, and put projects and processes in at the forefront. So I've been there, yes. But what I can say to you is this. Putting together making sure that you have a cadence, something that's scheduled on your calendar with each of your direct reports doesn't have to be every week, if you can't get there, every two weeks, I mean, try try to have some cadence start small, if you need to do once a month, you're not meeting with them at all, once a month, you're doing more of a team meeting. So start with the baby steps, and then go from there, I did have a cadence of trying to meet once a week with each of my direct reports to make sure that I could find out what barriers I could remove from them for them. And so here's the thing you can't really afford not to listen, really can't afford not to take that time and have that time with your people. Because you will have all these other things that are up there. But guess what you have to delegate you have to empower and you can't do that if you're not meeting with people and figuring out what it is you can do to remove barriers and to you know, plow through things and and help give them access to things that they need. So that's what I would say to them.

Clint Pulver
Yeah, it's a crucial thing. And I think sometimes with COVID right now, a lot of employees or even employers kind of look at Well, there's not very many options, and everybody's just trying to survive. So put your head down, go to work, and just be glad you have a job. But I think that what we've seen too is that great leaders that have learned to listen better, that have picked up the phone and actually called have scheduled time to connect with their employees. It always increases productivity, it always empowers people, it always in the long run will just create better results. And that little investment of time really goes a long way.

Heather R Younger
Yes, I want to say amen right now!

Clint Pulver
I wanted to ask you that, what would you say when we talk about listening? The best type of listening? Is there a specific way that you have seen is maybe better? Is it a survey? Is it a one on one, what would be your advice on how to listen better and where to start, that would get the best results.

Heather R Younger
I think in the end, the organization should have a listening strategy. So that's going to be multi level, it is going to be above organization, that kind of a survey level, drilling down to themes and looking at, you know, focus groups or different culture teams. But at some point, you know, a lot of this has to do with what the manager and the employee relationship, the the two people, the one that's looking to you for guidance, and the one you're looking to, to get things done. So that has to get done, it has to be a priority. But if the organization loosens up some space for those type of organic conversations to happen, that's where things are going to get rich. And then above organization, you do it too. So the strategy should really be multi tier, it should start top to bottom. But in the end, you have to make sure that that manager, the leader and the team member are interacting and give them weight things to talk about, what can I talk about to my team and brought me I'm meeting with every week. Okay, so I know I do projects and processes, but how about how are you doing?

Clint Pulver
Yes!

Heather R Younger
How are you feeling during this time? How are you how are you and your family handling? What is happening right now. So those are the conversations I tell you, they will give you so much more, they will pay so much larger dividends, if you are focusing on the caring side of the leadership right now, at the organizational level, with listening and being very responsive. And at the at the leader level with your team member when they're sitting right in front of right in front of you. And they may not tell you what's happening. But it's really come upon you to to dive deeper. And, and not be afraid, be a little vulnerable yourself. All of those things I think really helped to create more effective listening. Overall.

Clint Pulver
I think it's interesting in leadership, a lot of the times you see leaders that focus so much on the tangibles, right, the profit, the growth, the strategy, how do we move the needle, but it's really the intangibles that matter to the employees, you know, they don't remember how effectively you ran a meeting, or how well your strategy is to grow quota to 10% growth, or you know, they don't they don't talk about that they talk about the moments. They talk about the intangibles, how you make them feel. And I think now more than ever, and the time that we're living in, we need that we need good leaders to practice that.

Heather R Younger
Yes, absolutely. You know, it really is about emotions. And we as leaders get to choose which emotions we unleash within the people we lead, we get to choose that we choose it in our interactions, how we engage with them, how we, whether we do engage, or we don't engage, right, whether we choose to kind of show up fully and in a vulnerable way, in an authentic way, or we choose not to, and like I said, to focus on the numbers, the processes and projects. Now, having said that, again, I have managed people and I know that there's pressure to have the projects get completed to make sure we Institute processes, in fact, I think processes a huge way to produce more positive emotions at an organizational level, and all of the employees inside the organization. And so when I say that it is there are things in the background that we can do that can kind of scale the experience in a way that maybe we didn't think we could before. And so that would be like if we're doing this survey, and we're listening, what is the plan to communicate back to employees about what you're doing? If you know that the morale is low? What can you do about organization to create more recognition programs, or processes for recognition, or touch points for recognition that can uplift and enthuse your people? So those are processes that we need to focus on. But it's the emotional side of things, that really should be our priority. So I'm 100% with you there.

Clint Pulver
Have there been specific ways that you have seen that, that companies have recognized their people during COVID-19? Has there been anything specific or any ideas that you would give to leaders that can maybe use some help on how to recognize their employees more?

Heather R Younger
You know, here's one thing that I've said recently, I've said it a lot. But recently, it's been a big priority. And that is there's nothing more powerful than the written word. And right now, everybody's like so zoomed out, our emails, Zoom Text messaging, so much digital, right? Why not get back to the basics, writing from the leadership team, or the manager, handwritten thank you notes, with specific things that maybe refer directly back to your organization's values, mission norms, something that they did that really points back to that thing, so Keeps it focused on the organization. But at the same time it gets down to the person. And what did they specifically do? and writing it? Oh, my goodness, a novel concept that comes in the mailbox, they get it? What a surprise. Right? So this is just going to get getting back to basics, I think is the biggest thing, picking up the phone, as you talked about, maybe it's not zoom, maybe it's not text, we're just picking up the phone and saying on that group call that we had, I noticed that your energy was a little bit down. I just wanted to reach out to you. I just wanted to see how you know how you're doing? Is there anything I can do for you? Yep. And that those are just the kind of conversations it is the soft stuff. That is the hardest stuff to do.

Clint Pulver
Yeah, but we had to do it, you're spot on. It is the soft stuff. That is the hardest stuff to do. But it is what gets remembered. It's what employees talk about. I still remember Heather, when I was working in corporate America, I was in sales. And I'd get a monthly quarterly projection of where I was at what I was doing, how the business was going. And I could not, I can't tell you a thing. I can't remember anything from that. But I do remember at the top of every quarterly projections sheet, my manager would write a note and just praise me. And he talked about, dude, you're killing it, you're doing so great. I love how you're doing this. You're working so great with all the rest of the team. I just appreciate you if there's anything you need reach out, I still remember that I remember his handwriting. I remember what that meant. Every time when I got that quarterly projection sheet. I was excited to read it. I was excited to look at it. And it just was a little thing that really made a big difference.

Heather R Younger
That's huge. Yeah, it really is I people, it drives me nuts. We actually call things soft skills. I know because it is so hard, right? I think it's much easier to look at a spreadsheet and judge whether that's right or wrong. But it's so much harder to look through the soul of a person. Right? And to have and to allow them to authentically show up as they were put on this earth to do like those are the kind of things that just you can't put a price tag on, you can't put it that as loyalty. Loyalty comes from allowing people to show up as their fullest selves, even if it doesn't completely align with you. Okay, but that you're there to support them for who they are. Ever you actually show up not as someone perfect person with some bad cable. Yeah, yeah. Go up and say, You know what, I? This has been a tough day. But let's work together and see how we can get through this. Yeah, they have to see that you are resilient. Right? And then that helps them become resilient too.

Clint Pulver
Yep, I agree. What would you say? I mean, during during this crazy time with with COVID. You've worked with a lot of different organizations during this time. I think sometimes leaders forget. Or sometimes they don't even know that there is a problem. From your perspective and the organizations that you've worked with Heather during COVID-19. During this this time, have you seen an overarching theme from an employee's perspective, anything that the employees are hoping for wanting? Can we give some insight to a leader that's listening right now, from your expertise, that this is what you've seen the employees have needed and craved the most from their leadership during this time?

Heather R Younger
Yes, I think the biggest thing right now the entire world is really sick of the unknown, right? They're fearful of the unknown. And employees are no different. And so what a leader can do right now is to help as much as possible within their sphere of control, get rid of the unknown, inside of that small circle. And so what I mean by that is, if you are aware of things that are happening in the organization, or you know that you want to move in a direction with a team, don't hide that from your people, they are adults, they want the truth as much as you can give it to them. So being really upfront, involving them in the decision making process, and powering them during this time to again, control what they can control. That way, if you can feel like you have more influence or control in your little sphere, it makes you feel less out of control, right? And then the anxiety can go down, and the stress can go down. And so I would say that'd be the number one thing that employers are looking for right now is for their leaders to help have them to help them get rid of some of the unknown that exists inside the workplace where they are able, and that they can own their small little space right now. That's going to reduce their stress and their anxiety.

Clint Pulver
So as we close Heather, what would be maybe one action item if there's if there's one thing that you could get leadership in today's world to do to apply that to help decrease the uncertainty to help them listen more, one action item that whoever's listening, they can walk away and say, All right, I'm gonna give this a shot today, with my employees. I'm gonna I'm gonna try that. What's one thing that you would propose?

Heather R Younger
Okay. This is gonna sound earth shattering. It's gonna just rock your world...Reach out to them and talk to them. Just reach out and talk to talk to them.

You know, don't run, what happens, it's easy for us to do right now, during this crazy time of change is for us to bury our head in the sand, or for us to kind of ignore the fact that there's a lot of stress and anxiety that there are increases in mental health issues, right that are going on inside our own teams. Yes. Right now, today, commit to reaching out to each one of your people, and just checking with them. I just wanted to see how you're doing. How are you dealing with every minutes here? What can I do for you? And just listen.

Clint Pulver
I'm gonna say it for you, Heather. Amen. Amen. Amen. Amen. Heather, this has been incredible. Your insight, your expertise is priceless. It's valuable. And it is so needed right now, more than ever, if any leader or anybody that's listening to this, if they want to connect with you, bring you into their organization to speak to train to help to create a culture of listening, where can they find you?

Heather R Younger
Well, you can find me at Heatheryounger.com. You can also find me through CMI speakers.com. So you can go there and find me there. I am on LinkedIn pretty actively. And so if you want to go a little bit more of me and kind of the content, that's probably the biggest platform I'm on right now. So I would say just find me Heather younger on LinkedIn.

Clint Pulver
Okay, sounds amazing, Heather, you're incredible. Thank you for taking the time to enlighten us share your expertise, and we look forward to good things to come.