Baltasar Kormákur, director of the mountain-climbing drama "Everest," says it took a location-scouting trip halfway up Mount Everest, to a snowy base camp in Nepal, for him to appreciate that it might make sense to have his movie's audience put on 3-D glasses.
"I had a moment standing there where the volume of the mountain was just so immense, and I was thinking: How can I possibly get this on film? How can I give people at least some of this feeling?" he recalls.
Until recently, simulating three dimensions on theater screens had been a trick primarily aimed at kids in fantasy, sci-fi, and animated movies. Think "Avatar," "Jurassic World,""Marvel's Avengers." Nobody can question the financial success of those blockbusters, but they also gave 3-D a particular kind of reputation for many filmgoers and filmmakers, as a gimmick best suited for simulating fantastical worlds that don't really exist.
Martin Scorsese's "Hugo" in 2011, Ang Lee's "Life of Pi" in 2012, and Alfonso Cuaron's "Gravity" in 2013 showed that 3-D could draw adults into emotional films, though those movies still depicted imagined environments.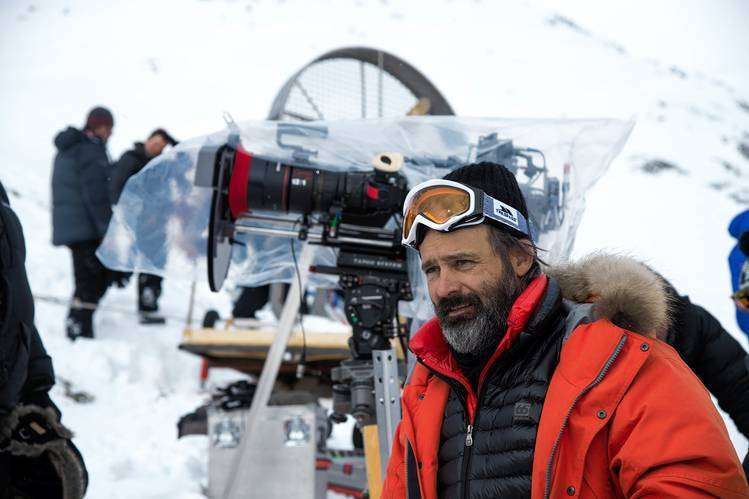 Mr. Kormákur thought 3-D could help tell a true story about the real world, the ill-fated 1996 Everest climbing expedition. The optical effect could help convey the gargantuan scale of the highest mountain on Earth, and, in turn, heighten the emotional impact for audiences by highlighting the risks the climbers confronted. Combined with the large-screen IMAX format, the 3-D depth could serve the movie's narrative right along with other filmmaking elements: its ambitious camera work, sound, visual effects, and performances from a cast including Jason Clarke, Jake Gyllenhaal and Josh Brolin.
"I fought pretty hard to do it," says Mr. Kormákur, an Icelandic director whose English-language work includes action films "Contraband" and "2 Guns." "This was [circa 2012] before 'Gravity' came out, and we didn't have many adult movies playing in IMAX 3-D. It was all about superhero movies."
Mr. Kormákur pitched the idea to producers as a subtler version of the 3-D that moviegoers associated with comic-book blockbusters: "I said it's more like two-and-a-half-D. I'm not throwing things at people's faces. It's more to create volume inside the screen. I wasn't looking for moments of surprising people, like 'bah!' It's more like 'oh...my...god,' slowly. 'This is high.'"
The emerging dramatic films for large-format screens have grown partly out of the groundbreaking IMAX documentaries once relegated to science-museum rotundas, meant to offer views of nature's grandeur that audiences couldn't see before. One of the top IMAX documentaries of all time, in fact, is David Breashears' 1998 "Everest." (The link between filmmakers and Everest stretches to film's early days; one of the first organized Everest expeditions ever, in 1924, was financed by John Baptist Lucius Noel, a British filmmaker who made a silent documentary about it, "The Epic of Everest.")
But filmmakers are discovering more subtle potential in 3-D, as a device for telling stories and building emotion. Later this year come Ron Howard's seafaring drama "In the Heart of the Sea" and Ridley Scott's "The Martian," both in 3-D and IMAX. Ang Lee, who directed "Life of Pi," is in postproduction of "Billy Lynn's Long Halftime walk," a 3-D film about soldiers having to return to Iraq after being celebrated as heroes at home.
Wim Wenders has embraced 3-D for his latest small film, "Everything Will Be Fine," which makes its North American premiere this Friday at the Toronto International Film Festival and opens in theaters in December. It's not about dizzying heights nor high adventure—it's an intimate film about a traumatic car accident, starring James Franco, Charlotte Gainsbourg, and Rachel McAdams.
Mr. Wenders, who adopted 3-D to film dance performances for his 2011 documentary about choreographer Pina Bausch, believes 3-D can get audiences closer to people, not just emphasize distance. He calls the technology an evolution in the language of film—he compares it to the advent of sound—and says it has been miscast in fantasy roles.
"It's for capturing reality," he says. "What I'm trying to achieve is that you're closer to people. You're more immersed in their lives. Overcoming a trauma is a process that happens inside people. My feeling is that 3-D can really look into people's soul."