Behind The Devastating Drama Of The New Movie Everest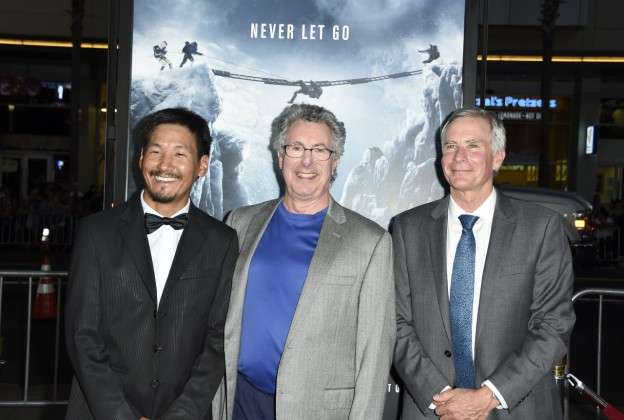 The feature film "Everest" is already out in IMAX and select theaters, but opens across the country on regular screens Friday. And beware, it's not for the faint of heart.
Directed by Baltasar Kormákur, it tells what happened in 1996 when eight climbers died on the world's highest peak.
David Breashears was on the mountain at the time, working on another movie. He helped in the rescue efforts, and years later he became co-producer of this new film on the tragedy. He joins Here & Now's Robin Young to discuss the film.
https://youtu.be/5ZQVpPiOji0
Interview Highlights
On the emotion of watching the finished movie
"Watching the film sometimes is actually quite emotional, I'd known Scott Fisher and climbed with him since I was 18 years old, and he dies on the mountain. I'd known Rob for a decade, and to recall the conversations, and the memories of the storm… Our team was below the storm but just to hear the fearsome veracity of the wind and to know they were caught in a blizzard and it was -40 degrees and 80 miles an hour winds. The film takes me back to when we were worrying about 18 people who hadn't returned to the high camp."
On what on-screen is real footage and what is computer generated
"First of all what's very real is the acting, and the way they honor the essence of their characters. The other thing that's real, most of the time, is the mountain. In 2004 I led an expedition to the summit, we filmed from base camp to the summit with a big team, and it wasn't until 11 years later that we were able to use that footage in the film. As you move up the mountain there's a mix of footage we shot, film footage in 2004; there's a mix of what we call plates, high-resolution background images; and there's a mix of some computer generated images."
"The thing we're still thinking about, every time I see that film … we ask ourselves the question, 'Rob, what are you doing here, with your skill level as a mountaineer … how did he allow himself and Doug to reach the summit so late?"
On the uncertainties of Everest expeditions
"The crapshoot is more in the unpredictability and idiosyncrasies of human behavior. A lot of people got down from the mountain that night, and a lot more would have if they had considerably more experience. The thing we're still thinking about, every time I see that film – and I watched it sitting next to Rob Hall's 19-year-old daughter, whose wife was seven months pregnant when he died, then we find his body 10 days later – we ask ourselves the question 'Rob, what are you doing here, you know, with your skill level as a mountaineer and skill level as a guide?' This good-natured fellow, who cared for people on the expedition and cared for his friends, how did he allow himself and Doug to reach the summit so late?"
Guest